The German North Sea port of Emden has completed one major €6.2 million modernisation project and is on track to complete a second in a bid to boost cargo handling and improve ship access.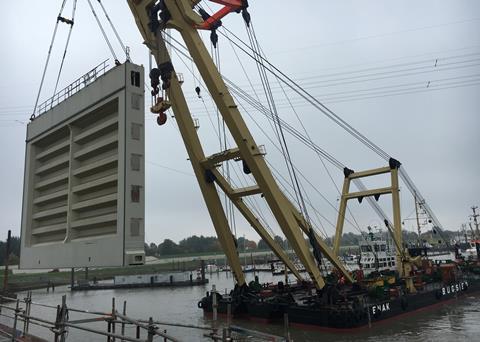 The projects are part of an €85 million expansion and upgrading programme for the German Ems Estuary seaport, being undertaken and funded by the federal state of Lower Saxony up to 2020. Emden is the third biggest vehicle handling port in Europe after local rival Bremerhaven and the Dutch port of Zeebrugge. It is one of 15 port locations operated by Niedersachsen Ports (NPorts).
Emden handled a record 1.4 million vehicles in 2015. That and offshore wind component business is expected to increase and with it the demand for flexible handling facilities. Just completed to help cope is the modernisation of the port's Südkai bulk goods facility and its conversion into a modern multi-purpose terminal.
The project has taken a year and some €1.3 million of the €6.2 million cost has gone on surface development. The 40,000 m2 storage area between bollards 6 and 25 along the 1,000 m long quay has been re-paved and asphalted and a mobile crane track created. South of the facility a new storage area with washing point and oil disposal has been built. Construction was by a consortium headed by Matthäi and Huneke & Rick.
In the second future-oriented development, the giant floating crane ENAK installed two lock gates on Emden's 170m x 18m Nesserlander Lock. The positioning of the 160 ton units, by Hollandia and right on schedule, marked the latest stage in the renovation of the 128 year old lock. Engineering and construction at the lock involves a consortium grouping Neumann, Prien und Hecker and the Dutch firm of Hollandia, whose project head Aiko Hollander told Maritime Journal he was very satisfied with the progress of the project.
The lock is for completion December 2017 with some works continuing into 2018. NPorts Managing Director Holger Banik said the renovation would "enormously ease the burden" on Emden's biggest lock facility –the 260m x 40m Grosse Seeschleuse sea lock.
When the Nesserlander project was first planned, costs were put at about €30 million. This doubled when lengthening and widening were added and reports spoke of more than €120 million. NPorts spokeswoman Dörte Schmitz told this correspondent however it would be "below the €120 million mark".
The Südkai and lock projects are part of efforts to meet future capacity requirements in Emden. Lower Saxony State Secretary Daniela Behrens said at the Südkai inauguration: "we want to do everything we can to to expand and strengthen the ability of Lower Saxony ports to compete. That's why we are investing in local port infrastructures".
By Tom Todd