Holland Shipyards Group has built and delivered a fully electric ferry that is 100% emissions-free.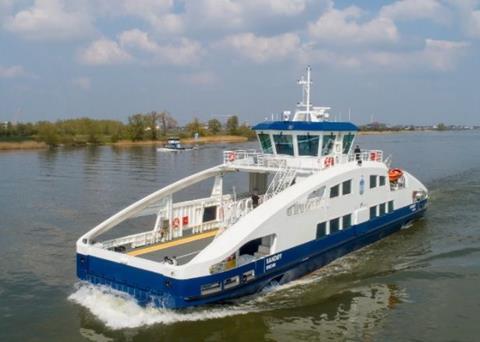 The 42m long Sandøy ferry has been handed over to Brevik Fergeselskap. The ferry runs on battery power with an installed capacity of 1.300kWh. Sandøy will be charged using a 600kW shore charging facility, and charging will mostly take place at night.
"It has been an extraordinary year, in which we as owners haven't been able to travel due to the global COVID restrictions," said Borgar Slørdal, Brevik Fergeselskap IKS. "Building a vessel while not being able to be physically present during the building, can be quite challenging. However, it absolutely did not affect the trust, or the great cooperation with Holland Shipyards Group. We are very happy with the quality of the vessel and the cooperation, and are looking forward to seeing the 'Sandøy' sailing in the Eidangerfjorden!"
Holland Shipyards Group said ferries are ideal for electrification, as their operating area is extremely predictable, and charging facilities are relatively easily accessible.
The vessel, which has the capacity to transport 98 people and 16 cars, will operate within the waters of Eidangerfjorden, Norway, connecting Brevik with Sandøya and Bjørkøya.
By Rebecca Jeffrey