Officials at Elbe-Fährlinien say the small, eco-friendly, hybrid catamaran Liinsand, now switched from North Frisian service to commuter ferry transport on the busy Elbe Estuary, is ideal for the job, reports Tom Todd.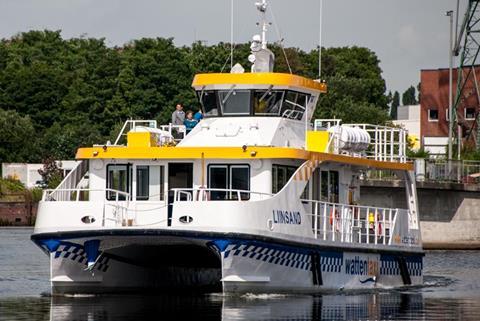 The 18.7m x 7.2m cat – now serving under the name Elblinien - has begun the three times daily 95 minute service from Stadersand via Wedel to and from Hamburg Altona. In so doing it also links the three north German federal coast states of Lower Saxony, Schleswig Holstein and Hamburg. All are active in pollution control and prevention in the Elbe estuary, one of Germany's busiest shipping regions.
The new Liinsand service revives an estuary commuter route on which there has not been a regular ferry service for years. It has been made possible by local co-operation and the transfer of the catamaran by owners Reederei Watten Fährlinien from shallow-water Wadden Sea operation in the tidal flats of Germany's North Frisian islands.
Officials said the fast 16 knot hybrid, built in 2017 at the Loca Muhendislik shipyard in Turkey, was ideal for its new emission- free job both in port and close to shore on the Elbe Estuary. It is "doing exactly what it was designed and built for", they said. "Sailing in port and close to shore is emission-free and activity during quayside berthing is also noise-free" an Elbe-Fährlinien spokesman added.
With a top speed of 18 knots the hybrid propelled Liinsand draws max 1.35m and carries a crew of two and 50 passengers along with 15 bicycles. Outside port it operates with two SCR equipped six-cylinder, parallel redundant Scania DI13 78M diesel engines each of 405kW over Reintjes hybrid WAF244 gearings, driving two fixed propellers and two Becker rudders.
In port Liinsand switches to electric operation using two COBRA (Compact Battery Rack) systems developed by Becker Marine Systems, each with 52.5kw hours.
With the market growing for alternative marine propulsion systems, Hamburg-based Becker has built a battery division to develop COBRA. The system is based on lithium-ion cells and Becker says it is suitable for all types of ships, including offshore supply, harbour and port workboats, passenger ships, car ferries and larger cargo ships. It is described as light and compact compared to conventional battery systems and easy to install.