Global stevedoring, logistics and shipping experts from member companies of the EMS-Fehn-Group have started their work on the Trans Adriatic Pipeline (TAP).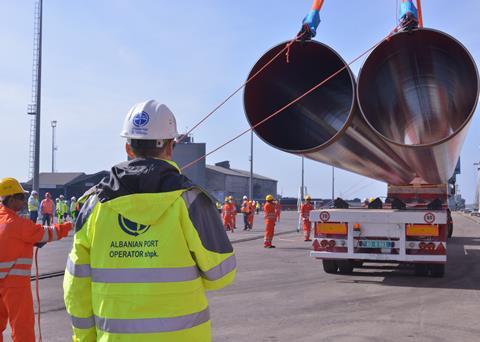 The project will see 133,000 tonnes of pipes shipped from Brake, Germany to the Port of Durres, Albania and then to the building site.
On 21 March, the first pipes were loaded in Brake and arrived in Durres eleven days later. Meanwhile the third vessel has been discharged at the terminal of EMS APO.
Staff members from EMS Shipping, and its subsidiaries EMS Albanian Port Operator (EMS APO) and German Albanian Logistics Agency (GALA) are actively involved in the project, proviting customs clearance, discharging and trucking.
The line pipes are between 12m and 15m long with a diameter of 1,20m, several hundred pipe bends will also be shipped and handled.
Pipeline covers the distance of 215km onshore and 37km offshore from the border with Greece to the Adriatic coast near Fier.
TAP is part of the Southern Gas Corridor, which stretches over 3,500km from gas fields in Azerbaijan to Italy, the project is expected to continue until 2017.
By Alice Mason