Left undetected, fluid leaks from vessel engines can disrupt operation and cause equipment breakdown and environmental pollution. US-based Spectroline's Marine Leak Detection Kit (OPK-400M) is specially designed to easily and efficiently locate fuel, oil and hydraulic leaks in small to medium sized marine craft.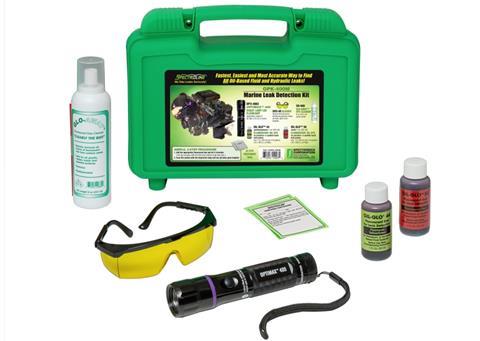 Packaged with two distinctly coloured fluorescent dyes, it differentiates between multiple leaking fluid systems.
The process works by adding the fluorescent dye to the fluid system and let it circulate. The user then scans the system with a Spectroline leak detection flashlight to pinpoint the leaks. At the heart of the OPK-400M kit is the OPTIMAX 400 violet light leak detection flashlight—a high-intensity LED compact lamp that gets into cramped areas that are inaccessible to larger lamps.
Also included in the marine kit are a 1 oz (30 ml) bottle of OIL-GLO 44 and a 1 oz (30 ml) bottle of OIL-GLO 50 fluorescent oil dye. Both are compatible with petroleum- or synthetic-based fluid systems and treat up to 8 gallons (30.3 L) of fluid. When a leaking system is scanned with the OPTIMAX 400, OIL-GLO 44 will glow yellow/green, while OIL-GLO 50 will glow red.
The kit also includes an 8 oz (237 ml) spray bottle of GLO-AWAY dye cleaner, dye treatment tags and fluorescence-enhancing glasses. All components are packed in a carrying case.
By Jake Frith