In 2024, the world's first green fuels service operation vessel (SOV) for offshore wind operations will launch off the UK, courtesy of Ørsted and ESVAGT.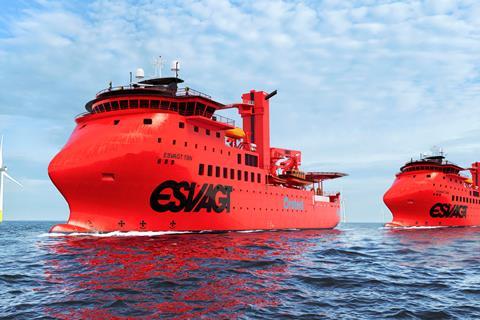 Now the two companies are expanding their partnership on green offshore operations by signing an agreement to build a second sister vessel.
"As the world leader in offshore wind, Ørsted will continue to look for the best green alternatives to fossil fuels," said Mark Porter, head of operations Europe at Ørsted.
"E-methanol is a strong match for our SOVs, and we're very pleased that we, along with ESVAGT, will soon welcome the second methanol-powered vessel to our fleet."
Carbon commitment
This agreement for a sister vessel to the world's first methanol-powered SOV, further deepens the companies' commitment to reducing carbon emissions from the offshore wind supply chain.
The new ESVAGT SOV will be powered by dual fuel engines, capable of sailing on renewable e-methanol produced from renewable energy and biogenic carbon, which will lead to a yearly carbon emissions reduction of around 4,500 tonnes.
It also incorporates the newest technologies and is designed for comfort and high workability, providing a highly efficient workspace and safe transfer of technicians at the windfarm via a motion-compensated gangway and transfer boats.
As a floating home, it also offers recreational activities for the on-board crew and technicians, including fitness facilities, a game room, a cinema and individual accommodation. The SOV is also equipped with a helipad for fast access and transfers to and from shore.
The SOV will be ready for launch in 2026, where it will operate out of Ørsted's UK east coast hub on a ten year contract.
Ørsted has established itself as a pioneer in the field of green maritime fuels by taking Europe's largest final investment decision on a renewable e-methanol facility, FlagshipONE in Sweden. This will give it the ability to supply its own methanol for both of its new SOVs.
Two other projects in Ørsted's diverse portfolio are focusing on producing e-methanol for maritime transport.
'Project Star' on the US Gulf Coast will supply 300,000 tonnes of e-methanol for A.P. Moller – Maersk's fleet of zero-emissions vessel, while the 'Green Fuels for Denmark' project in Copenhagen, will see Ørsted working with major Danish players in heavy transport, including shipping.
Methanol according to DNV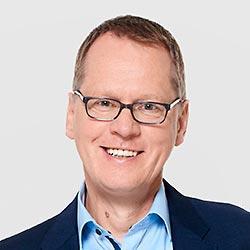 Jan-Olaf Probst, executive vice president Business Development at DNV
"Methanol holds significant potential as a future ship fuel and has recently emerged as a major topic in the discussion about the IMO decarbonization goals and alternative ship fuels," says classification firm DNV. "Knowing what future fuel to build for is one of the biggest challenges for shipowners as emission limits get tighter."
In a new chapter within its document Alternative Fuels for Containerships, exploring methanol as a potential ship fuel, Jan-Olaf Probst, executive vice president Business Development at DNV, says the requirements for methanol are much less complex than for LNG.
"Methanol is non-cryogenic, liquid at ambient temperatures, and does not require refrigeration or specific and expensive materials for tanks and pipes," he says. "Appropriate storage and handling technologies and expertise exist, and bunkering would be comparatively easy to implement.
"Methanol tanks may be integrated into the hull structure but require more space on board than LNG or heavy fuel oil (HFO) for a given trading distance, the DNV expert points out. "In most current engines methanol requires a pilot fuel for efficient burning, so diesel fuel must be carried on board as well, doubling as fall-back fuel too.
"Of all the alternative fuels currently being discussed, methanol requires the lowest extra capital investment compared to a conventional HFO-powered vessel of the same size and type, with all relevant parameters factored in."