The Dutch are a step closer to connecting 759MW of offshore wind power to the grid, although this is a mere drop in the ocean when set against future targets.
The Netherlands' Hollandse Kust Noord offshore wind farm 18.5km off the coast of the Netherlands near Egmond aan Zee, is a step closer to full operations now that cables have been buried and connected beneath the seabed.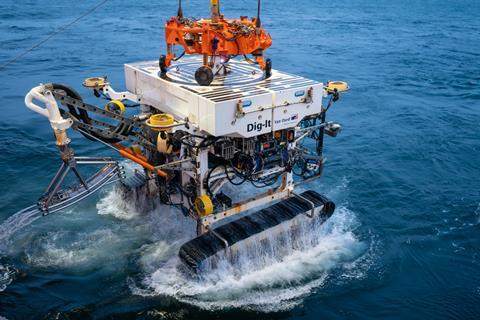 The project will contribute to the ultimate target set by the Dutch government of 72GW from offshore wind by 2050.
Marine contracting giant Van Oord was hired by developer Crosswind to carry out the works, which it completed with its cable-laying vessel Nexus, which has a 5,000 tonne carousel, and trencher vessel Dig-It.
Dig-It is a remotely operated vehicle that has two modes of digging depending on whether the soils are sandy or harder, and at Hollandse Kust Noord both modes were used, Van Oord says. The vehicle was operated from Van Oord's vessel Subsea Viking.
Van Oord designed a 66kV inter-array grid for the transmission of the electricity. Dutch manufacturer TKF (Twentsche Kabelfabriek) supplied the cables
Crosswind is a joint venture between Shell and Eneco and it hired Van Oord to design, engineer, procure, transport and install the wind turbine foundations, inter-array cables and turbines themselves.
Once fully operational the wind farm is designed to generate 759MW of electricity, which the developer says will contribute 2.8% of the country's supply.
In 2022 the Dutch government set a target of 21GW offshore wind-generated electricity by 2030, which it says equates to about 75% of current electric consumption.
"Our electricity consumption is, however, expected to increase," the government says. "Therefore, we will need even more offshore wind to be developed after 2030. Future scenarios for energy systems (supply and demand) and the North Sea Energy Outlook (Noordzee Energie Outlook) indicate we will need between 38 and 72GW of cumulative offshore wind capacity by 2050."