Three EU-funded R&D projects have been selected to complete their designs and fabricate prototypes for a one-year demonstration aiming to assess the feasibility of different ideas to generate electricity from wave power.
The EuropeWave PCP encourages design, development and demonstrations of cost-effective wave converter systems to produce electricity even in the harshest conditions.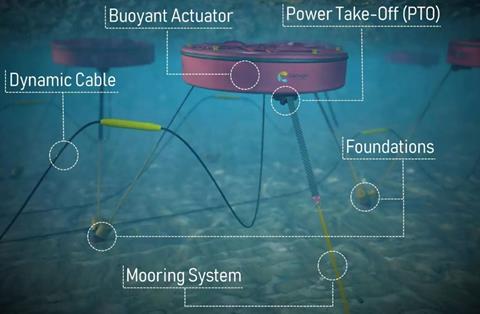 CETO Wave Energy Ireland, a subsidiary of Carnegie Clean Energy, is a fully submerged point absorber technology in which a buoy sits a few metres below the water surface and moves with the ocean's waves, the orbital motion driving a power take-off system that converts the motion into electricity.
The company says the product has completed more than 10 years of testing onshore in wave tanks as well as in-ocean testing. It can operate in a variety of depths, swell and seabed conditions and is robust enough to survive extreme sea states and is also scalable, with a modular design.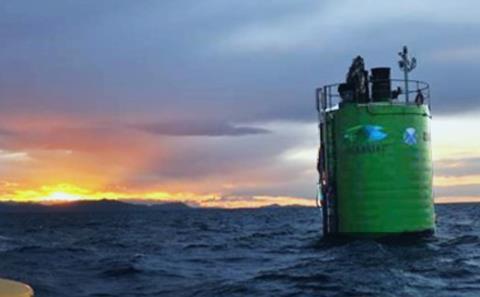 MARMOK - Atlantic, by IDOM Consulting, Engineering, Architecture, is a wave energy harvesting technology based on the Oscillating Water Column working principle that it calls MARMOK.
"The basic device concept can be described as a spar element holding a cylindrical water column inside," says IDOM. "During operation, due to waves excitation, a relative movement between inner water column and buoy is produced. It makes the water column act like a piston that comprises and expands the air chamber which is confined in the upper side of the buoy, generating a reciprocating air flow which is then converted into electric power using a power take-off system composed by an air turbine. The absorbed power is transmitted to shore through a subsea cable."
The third project is Blue Horizon 250, by Mocean Energy.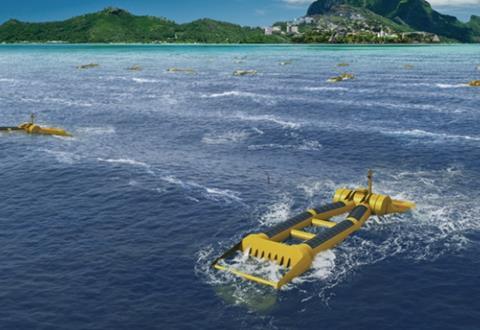 Mocean describes it as a hinged raft with forward and aft wave channels, geometrically optimised.
"At 250kW scale, the commercial applications for Blue Horizon focus on islands & remote communities, while also including early grid projects and off-grid applications, such as oil and gas and aquaculture," says Mocean. "Across these key markets, nearer to longer-term value propositions have been identified."