DEME has won another two transport and installation projects for offshore wind in France with a value of €300 million, the company has announced.
It is the firm's second major offshore wind farm project in France after one at Saint-Nazaire, which was actually France's first.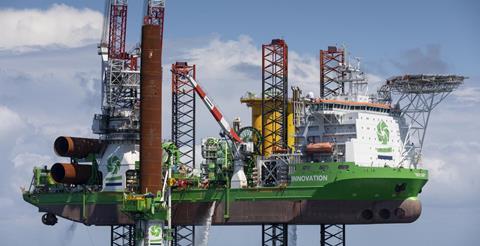 This one will be installed by the islands of Yeu and Noirmoutier off the Pays de la Loire coast, and will have 62 Siemens Gamesa 8MW wind turbines to generate up to 500MW of electricity. It will be built and run by Éoliennes en Mer Îles d'Yeu et de Noirmoutier (EMYN).
DEME says the project will present similar challenges to the one at Saint-Nazaire because of the rocky state of the seabed.
"The wind farm is located in a very rocky area, with challenging ocean conditions," says DEME. "Therefore, the installation of the monopile foundations will again require DEME's state-of-the-art drilling technology and some of the equipment, methods and tools deployed at Saint-Nazaire will be reused.
"This includes the giant 350-tonne Offshore Foundation Drill developed together with Herrenknecht and the so-called MODIGA. At 60 m high, the MODIGA encapsulates the drilling and installation operations, protecting them from the harsh marine conditions, which in turn, improves operational working time substantially."
Installation vessel Innovation will be deployed and the pre-piling works will be done in the second half of this year, said DEME.
The substation jacket and topside will be installed with Allseas' vessel Pioneering Spirit, and monopile foundations, substation jacket and topside are scheduled to begin in the first half of next year.
"From 2025 the Yeu and Noirmoutier offshore wind farm will produce clean energy for almost 800,000 people - more than the current population of the Vendée department - helping to diversify the energy mix and to continue the quest for carbon neutrality," said Paolo Cairo, President of the company Eoliennes en Mer des Iles d'Yeu et de Noirmoutier.