A floating offshore wind project has reached a significant milestone with the installation of a 2MW floating wind platform demonstrator in open waters.
The operation, carried out by the Windstaller Alliance, used anchor handling vessel, Normand Sapphire, along with local tugboats to tow DemoSATH from its construction site in the Port of Bilbao, Spain to the BiMEP test site 11 miles away.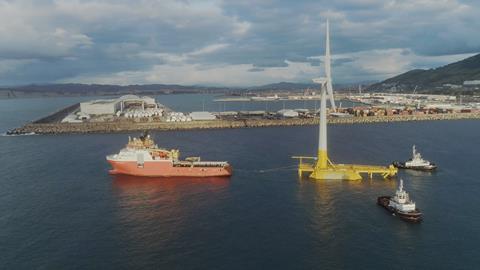 DemoSATH is a collaboration between RWE, Saitec Offshore Technologies and Kansai Electric Power. Its aim is to successfully demonstrate the SATH (swinging around twin hull) concept, a concrete twin-hull barge structure made of modular, pre-fabricated components with a single point of mooring enabling it to align itself with the current and wave direction.
David Carrascosa, chief operations officer at Saitec Offshore Technologies said it was 'thrilling to witness the DemoSATH project set sail'. "This milestone in the installation of the DemoSATH floating offshore wind project validates the years of steady commitment, resilience and teamwork," he said.
Once at the 85m deep BIMEP site, which is 2 miles offshore in the Cantabrian Sea, the turbine was connected to the six pre-laid mooring lines. Work is now continuing to finalise the cable connections which will feed the green energy through to the onshore grid.
DemoSATH is expected to generate the equivalent electricity needs of 2,000 Spanish households a year.
"We see great potential for floating wind farms around the world as they unlock opportunities in countries with deeper coastal waters," said Sven Utermöhlen, chief executive RWE Offshore Wind.
During the two-year operational period, the SATH technology will be tested, and operation and maintenance requirements analyses. The project also aims to gain insights into the challenges in open sea, particularly in the harsh conditions of the Cantabrian Sea.