Norway's Crown Prince Haakon has officially opened the world's largest floating offshore wind farm in the North Sea to supply a third of the electricity needs of two oil and gas fields.
Eleven wind turbines are sitting on the Hywind floating technology developed by Equinor to produce 88MW of electricity when the wind blows.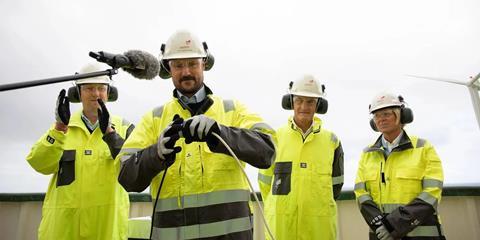 Equinor says the oil and gas fields, Gullfaks and Snorre, are the first oil and gas fields in the world to be powered in some way by offshore wind power.
"Hywind Tampen is expected to reduce CO2 emissions with 200,000 tonnes annually from key oil and gas producers in the North Sea," said Kjetil Hove, executive vice president for the Norwegian continental shelf in Equinor. "It is a bold investment in a pioneering project from the Gullfaks and Snorre partnerships and Enova. The project has given us and the supplier industry valuable experience that will be important when we work together to develop offshore wind further in Norway and globally, scaling up for the future."
Equinor says that Enova and the Norwergian Business Sector's NoX fund have so far given a total of NOK2.8 billion (€242 million) to the wind farm 'to stimulate technology development within offshore wind power and emissions reductions'.
Forecasts for future spending have increased from NOK5 billion (€433 million) to NOK7.4 billion (€640 million) because, Equinor says, of Covid-related costs, delayed deliveries, quality issues and 'knock-on effects' such as increased market prices.
The turbines, mounted on floating concrete structures with a common anchoring system, are 140km from shore and float on waters between 260 and 300 metres deep.
"With Hywind Tampen, we have shown that we can plan, build and commission a large, floating offshore wind farm in the North Sea," said Siri Kindem, head of Equinor's renewables business in Norway. "We will use the experience and learning from this project to become even better. We will build bigger, reduce costs and build a new industry on the shoulders of the oil and gas industry."
Equinor says the Norwegian government intends to supply the country with 30GW of offshore wind by 2040 - as yet, none of teh ofshore wind projects on the drawing board is generating electricity. Hywind Tampen is the first step into that arena.