The first 32m parallel hybrid crew transfer vessel (CTV) designed by Incat Crowther has gone into operation servicing Germany's offshore wind sector.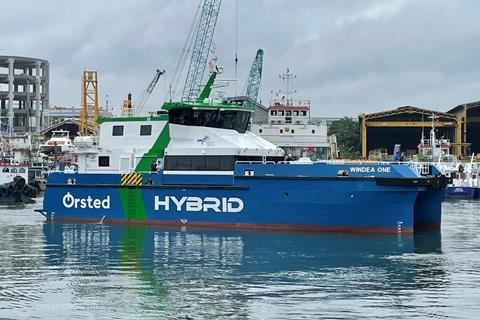 WINDEA ONE, designed for Emden-based EMS Maritime Offshore (EMO), is the first CTV to utilise Volvo Penta's new parallel hybrid system together with IPS propulsion and can be operated in an all-electric mode for up to six hours.
"The inclusion of Volvo's new parallel hybrid propulsion system in this vessel places EMO at the cutting edge of the industry," said Ed Dudson, managing director of Incat Crowther Europe.
"Not only can the vessel be operated in a fully electric mode, but there are also options to switch to biofuel, helping to further reduce emissions and the vessel's impact on the environment."
Step change
Built by Singapore's Penguin Shipyard International, under the designation WindFlex-32, WINDEA ONE is based on Incat Crowther's proven 32-metre CTV model and is IMO Tier III compliant.
Capable of speeds of up to 28 knots, WINDEA ONE will be serviced by up to six crew and will transport up to 24 service personnel in safety and comfort between the European mainland and the North Sea.
The vessel's upper deck has two single office cabins, a bathroom, a crew mess and galley along with an office/meeting room.
Its main deck features a client cabin and first aid room, along with two separate spacious accommodation areas for technicians, a technician change area and two bathrooms. The hull features four additional crew cabins.
WINDEA ONE has also been fitted with a hydraulic knuckle-boom crane, capable of carrying loads of up to 50 tonnes.
The vessel incorporates Incat Crowther's patented Resilient Bow Technology minimising boat landing impact forces.
Following an inauguration ceremony in Germany earlier this month, WINDEA ONE will now be deployed by Orsted to service its windfarms in the North Sea.