Ørsted's Hornsea offshore wind farms project has been given a boost with consent given for a fourth, bringing the total generating capacity of all of them to more than 8GW when they are completed.
The wind farm will cement the UK's position as number 2 in the world after China in terms of offshore wind, and Hornsea's four farms will have a total of 531 wind turbines - each needing operations and maintenance over the long term.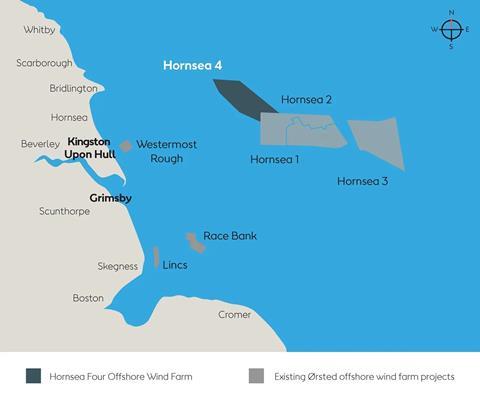 They will cover more than 2,000 square kilometres, at a distance of 69 kilometres from the coast at the closest point.
Ørsted has 13 operational UK offshore wind farms already, having first bought the rights to develop Hornsea in 2015.
"It's great to see one of the UK's largest offshore wind farms getting the green light from the government, at a time when we urgently need to get cracking on building new clean energy projects to generate the cheapest power for bill payers and enable us to bolster domestic supply chains," said RenewableUK's executive director of Policy Ana Musat.
"Hornsea Four will strengthen Britain's energy security significantly, helping us to move away from the volatility of international gas prices and closer towards energy independence, as well as enabling us to take a major leap forward towards net zero".
"The government has set the offshore wind industry an ambitious target to more than treble the UK's offshore wind capacity from 13.66 gigawatts now to 50GW by 2030," RenewableUK's head of Supply Chain Ajai Ahluwalia told Maritime Journal.
"This creates huge opportunities for the maritime sector in terms of the number of engineers, marine contractors and vessels we'll need to build out massive new projects over the course of this decade. The industry already employs 32,000 people and that's set to rise to more than 104,000 by 2030. But other countries are also looking to increase their offshore wind capacity exponentially, so international competition for a whole range of maritime services supporting the roll-out of offshore wind is intensifying worldwide".
While 8 gigawatts might seem a lot, in fact it's a drop in the ocean in the UK's offshore wind pipeline, which now has a total of almost 100GW awaiting installation.
China, says RenewablesUK, has 150GW in operation or in the pipeline.