Hybrid propulsion is not perfect but it is a critical part of the maritime industry's decarbonisation arsenal.
That was one of the key takeaways when industry experts met at Seawork to discuss 'Driving efficiency with hybrid marine propulsion – the next generation'.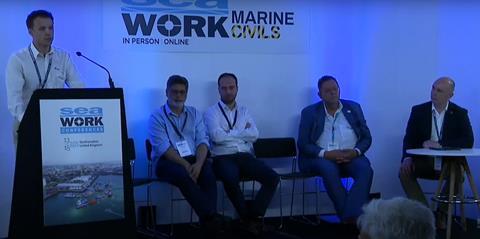 Shipping is a conservative industry with a reluctance to take financial risks, governed by a network of disparate national regulations. Despite the International Maritime Organization's targets to reduce emissions from shipping by 40% by 2030, the ways in which this will be achieved are still piecemeal and constantly evolving.
Full electrification is not possible for the time being. Limitations on battery size, and the need for vessels to carry heavy payloads means that larger vessels in particular will struggle to get all their energy needs from electrical power alone.
Although one part of a far larger picture, hybrid propulsion brings many benefits now – even though it is still heavily reliant on fossil fuels.
'Low-hanging fruit'
"Hybrid is a low-hanging fruit," said Christophe Rident, lead naval architect (commercial vessels and high speed ferries), BMT.
"You have the existing, well-understood technology of hydro-carbons with the newer technology of electrical power. You can use it as a stepping stone. Use it now and in the future you can replace the hydro-carbon part."
His sentiments were echoed by Bert de Ruiter, commercial manager, Acta Marine, who said that hybrid was not feasible for larger vessels and instead alternative fuels such as methanol were likely to play more of a part in decarbonisation efforts.
Bert de Ruiter also said commitment is needed from the industry if targets are to be met.
"We need long-term commitment from charters, new contracts," he said. "Don't expect the technology to be at the same financial cost as previously."
Immediate benefits
Hybrid propulsion nonetheless brings immediate benefits. Christophe Rident said it was potentially safer than fossil fuels with fewer fires reported with battery-powered vessels than with traditional hydrocarbon engines.
Bert de Ruiter pointed out that ostensibly redundant power from the fossil-fuel engine can be put to good use.
"We can use the idling hours of the diesel engines immensely," he said. "Maintenance costs go down, fuel costs go down. Until there are better solutions available… hybrid may be temporary but it is definitely a solution."
"This is a learning phase," said Mehmet Belibagli, technical sales manager, Volvo Penta UK, who expects diesel's dominance to disappear by the mid-2030s. "I'm sure there will be much more efficient battery systems in the future, with a longer range and higher output. But there is no doubt [hybrid] will help us reduce our emissions in our ports, urban areas and inland waterways."
No single solution
The key message of Eugene Bari, founder and chief executive, Ecomar Propulsion, was that there is no single alternative to fossil fuels and the right solution depends on customer needs. What is clear is that we must do something.
"We have to decarbonise," he said. "We're sitting here today and it's 30 degrees. There's a reason for that."
Christophe Rident echoed his sentiments. "There are many advantages to hybrid but the real key is that we're not saying 'hybrid instead of [other technologies]'. Let's keep working on the other stuff as well," he said.