Energie Baden-Wuerttemberg (ENBW) has selected a subsidiary of Associated British Ports to carry out the hydrographic surveys around two wind farms that are planned for the eastern Irish Sea.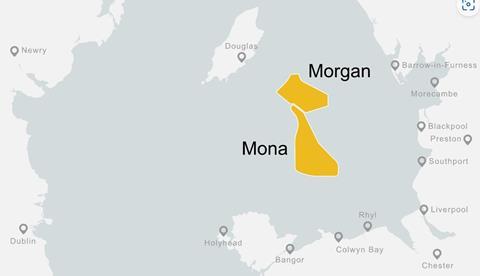 Morgan and Mona wind farm sites in the eastern Irish Sea
ABPmer will deliver metocean design and operating criteria and export cable corridors, as well as evaluate the seabed mobility potential for both projects, the company says.
the Morgan and Mona wind farms will be sited 20km-30km from the coast and are scheduled to be operational by 2029. ENBW says that together, they will form one of the largest wind farms in the world, with a combined potential generating capacity of 3GW. This is enough to power about 3.4 million households with electricity.
According to the UK Department for Business and Trade, the country currently has 10GW of cumulative installed offshore wind-generated power capacity across 38 sites, with a further 5GW in pre-construction and 11GW on the drawing board.
In his 'Ten Point Plan for a Green Industrial Revolution', former prime minister Boris Johnson laid out a target to reach 40GW by 2030, with another 10GW added through the British energy Security Strategy in April 2022.