Jan De Nul will roll out its 2015-built cable-laying vessel Isaac Newton to connect offshore wind farms to the German grid.
Jan De Nul and Hellenic Cables have been awarded offshore grid connections between TenneT's DolWin kappa platform and the N-3.7 and N-3.8 Offshore Wind Farms in Germany, which will consist of three 155kV HVAV cables.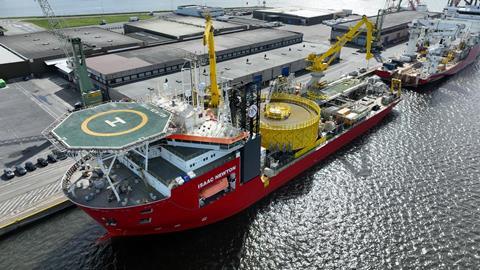 The 658MW connection should supply more than 700,000 households with wind-generated electricity, with one 16.5km cable from N-3.7 and two 10km cables from N-3.8.
Hellenic will design and supply the cables and Jan De Nul will transport and install them as well as provide protection for them.
"The project has a large similarity with the export cable projects Trianel Windpark Borkum II and Borkum Riffgrund II that Jan De Nul and Hellenic have delivered to TenneT back in 2018," said Wouter Vermeersch, Manager Offshore Cables at Jan De Nul Group. "Following the recent completion of the export cable installation scope for TenneT's Hollandse Kust Noord and West Alpha projects and TenneT's recent award to Jan De Nul of a German 525 kV cable system portfolio, we look forward to yet another successful collaboration."
When Isaac Newton was built she was said to be the largest cable-laying vessel of her kind, capable of transporting and installing more than 10,000 tonnes of cable in a single trip.
The largest out of two carousels on board has the ability to carry up to 7,400 tonnes.