A company with an innovative wind propulsion solution that has big decarbonisation potential has joined the International Windship Association (IWSA).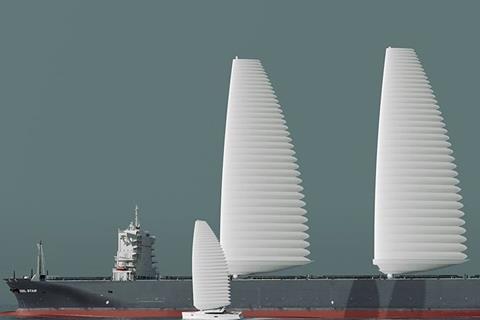 Michelin developed the Wing Sail Mobility (WISAMO) project, an automated, telescopic, inflatable wing sail system that can be fitted on both merchant ships and pleasure craft.
The company will now benefit from the IWSA's experience of wind propulsion projects, ship builders, engineering and design companies along with maritime associations and regional government.
"We are delighted to welcome Michelin and the WISAMO team to the association, they bring innovative approaches and a great deal of knowledge and passion to IWSA and we look forward to working together to make a future wind-powered fleet a reality." stated Gavin Allwright, IWSA secretary general.
WISAMO project
The WISAMO inflatable wing sail harnesses the wind, a free, universal and inexhaustible source of propulsion. Its revolutionary design enables a ship to reduce its fuel consumption and thereby have a positive impact on the environment by lowering CO2 emissions.
Designed and developed by the WISAMO project team, the system is especially suitable for ro-ro ships, bulk carriers and oil and gas tankers. It can be fitted as original equipment on newbuilds or retrofitted on in-service vessels.
The wing's range of use is one of the market's broadest, with proven effectiveness on many points of sail, and especially when close-hauled (windward). It can be used on every maritime shipping route. The telescopic mast is retractable, making it easy for a ship to enter harbours and pass under bridges. In all, the system can improve a ship's fuel efficiency by up to 20%.
The WISAMO system will first be fitted on a merchant ship in 2022, when Michelin expects it to go into production following completion of the trial phase.
By Rebecca Jeffrey