Jan De Nul Group has signed an agreement with German energy provider, RWE, for the long-term charter of two of its next-generation offshore wind installation vessels.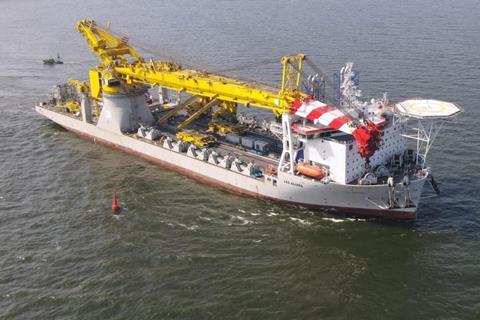 The charters are supported by a service agreement where Jan De Nul Group will provide services to support and perform installation campaigns for RWE's offshore wind projects.
"We are delighted to further step up our contribution to the worldwide energy transition through this long-term partnership," said Philippe Hutse, CEO of Jan De Nul Offshore Energy.
"This multi-year approach creates much-desired planning security for our state-of-the-art installation vessels and will allow safe and efficient installation of a large number of offshore windfarms. We look forward to the continued cooperation with our highly valued client RWE."
Offshore partnership
The partnership includes the exclusive and long-term charter of the two next-generation offshore installation vessels Les Alizés and Voltaire. Both can be used at RWE's current and future offshore construction projects and, if needed, to run maintenance campaigns at its existing offshore windfarm portfolio.
Les Alizés has been chartered for more than five years and is a purpose-built vessel designed for transporting, lifting and installing wind turbine foundations. With the ability to lift up to 5,000 tonnes and with a deck loading capacity of 61,000 tonnes, it is capable of handling the scale and design of future foundations that will support the next generation of wind turbines.
The vessel's first project will be the Danish offshore project Thor. Foundation installation works for this 1,000-megawatt windfarm are due to take place in 2025.
Voltaire is the world's largest jack-up installation vessel with a crane capacity of 3,200 tonnes and approximately 130-metre long legs. Its innovative design makes the vessel highly suitable for the installation of next generation windfarms in deep waters.
The vessel has already been chartered to RWE for more than four years, from 2027 onwards. Subject to the project's final investment decision, Voltaire will install the turbines of RWE's Hollandse Kust West VII windfarm off the Dutch coast.
Within this new framework agreement, the two companies are continuing their cooperation together.
During 2021 and 2022, Jan De Nul Group provided installation services supporting the construction of RWE's offshore windfarm Kaskasi off the German coast. More recently, Jan De Nul Group has been awarded with the export and inter-array cable installation scopes on RWE's Thor offshore windfarm.