A round-the-world yachtsman and the government of Jersey have joined forces to explore the use of hydrogen technology.
Phil Sharp is chief executive and skipper of OceansLab, a marine hydrogen accelerator committed to developing clean technologies. Together with the Ports of Jersey, OceansLab will establish a zero-carbon consortium to investigate the feasibility of hydrogen at ports and on vessels such as ferries, service and cargo ships.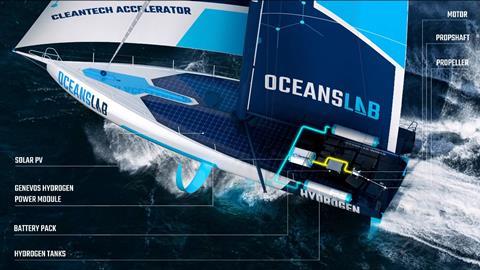 "This partnership will really explore how we can apply hydrogen fuel-cell technology and green hydrogen fuels to start decarbonising the island's maritime industry as well as its wider transport applications," said Mr Sharp.
"The strong winds and tides offshore around Jersey provide enormous potential for Jersey to reach net zero and become more energy resilient with hydrogen, and the opportunity to take the lead as one of the first islands to do so," he added.
The agreement also includes opportunities for Jersey-based students through sailing experiences, internships and an apprenticeship programme, as well as school visits and presentations on subjects such as renewable energy and ocean health.
Initial explorations will focus on a new tugboat coming into service next year for towing, patrol and maintenance duties around the harbour. Ports technicians will work with OceansLab to trial hydrogen fuel cell technology on board the tug.
"Initially, we will be exploring the possibility of powering our next tugboat with hydrogen, but this is the first step towards a zero-emissions marine industry which will ultimately benefit Islanders and the planet," said Ports of Jersey's chief executive, Matt Thomas.