An artificial reef system has been installed in the River Meuse in the Port of Rotterdam by maritime services giant Boskalis.
The 17 'ReefBlocks' have been made by Dutch start-up 'Reefy', founded by business developer Jaime Ascencio and marine biologist Leon Haines.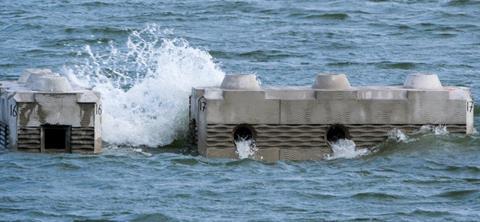 Current artificial reefs on the market are too unstable to be used as breakwaters, so using hydraulic engineering the start-up came up with 'Lego-like' blocks to form a stable structure that dissipates wave energy.
They have also created an underwater labyrinth, where fish and other species can live and breed, and have covered the blocks with a texture that encourages life.
With this, the start-up aims to stimulate all kinds of biological growth such as oysters and mussels to create a living layer that promotes biodiversity and can grow with sea level rise, requiring less maintenance.
17 Reefy modules were assembled under water by Boskalis in under three days, forming a total reef length of 25 metres and a height of 3 metres.
This is the fourth artificial reef project that Boskalis has been involved with under its Artificial Reefs Programme, including installations in Monaco, Kenya and Panama.
It is the first of many similar schemes by the Dutch start-up, with talks going ahead for demonstration projects in the Caribbean and central and north America.