Two North Sea wind farms with a power generation capacity of 900MW each should come online next year.
Ørsted's 900MW offshore wind farm Borkum Riffgrund 3 – a collection of three Borkum Riffgrund wind farms – and Gode Wind 3, the third in the Gode Wind group that will bring the Gode Wind group up to a similar capacity of 900MW, have taken a step nearer completion thanks to the Les Alizés next-generation heavy-lift vessel, owned by Jan De Nul.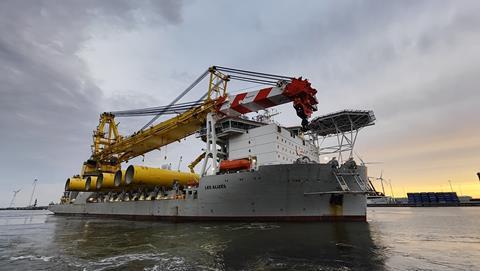 It is the maiden project for the vessel, which can cope with the bigger, heavier machinery that seems to be the trend in offshore wind manufacturing.
The wind farms are in the German North Sea and the licences were won in auction by Ørsted in 2017 and 2018.
Les Alizés will be used to install one offshore substation foundation and 106 monopile foundations for Siemens 11MW turbines across the two projects.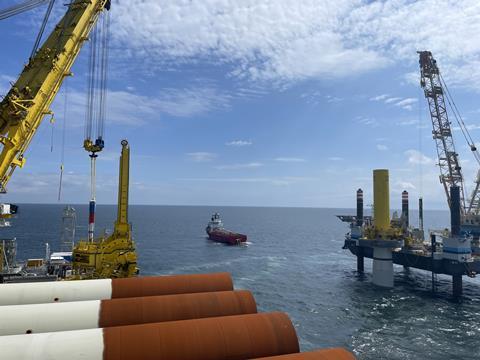 Les Alizés is capable of transporting and installing multiple units of the largest, heaviest turbines currently on the market, and 'as a crane vessel that floats, it will be able to install heavier and larger foundations into deeper waters and in more challenging seabed conditions', Jan De Nul says.
"We are laying the ground work for additional, large-scale renewable energy at sea, and thus further establish offshore wind power as a pillar of the energy transition," said Jörg Kubitza, managing director for Ørsted in Germany. "I am pleased that we have now reached the next milestone. In addition to the required capacities that will have to be installed in the coming decades, our projects also exemplify how offshore wind power can be built out in a value-creating and competitive manner in Germany – if the right framewoek conditions are in place."