Energy company RWE has won the right to develop a second Nordseecluster in the German North Sea.
Germany's Network Federal Agency announced that two sites could be developed and operated by RWE to deliver 900MW on top of the nearby 660MW Nordseecluster A currently in development by the company.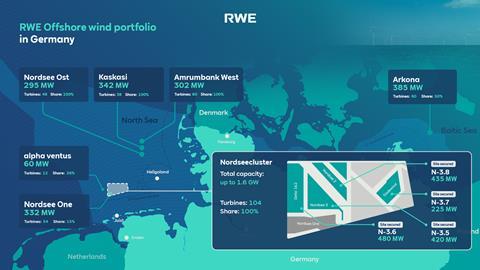 The latest award will be named Nordseecluster B, and each cluster will comprise two wind farms, making a total of four.
RWE CEO Offshore Wind Sven Utermöhlen said the company was 'driving forward the expansion of RWE's offshore wind power fleet in Germany at full speed'.
"Our portfolio already includes six offshore wind farms off the German coasts," he said. "This auction success at attractive conditions significantly strengthens our position. It is also a good signal for the energy transition. Every newly built wind farm increases green electricity supply, which is crucial for lower electricity prices in the long term."
Nordseecluster A is scheduled to come fully online in 2027, B two years later.
Norway-based subsea service company DeepOcean announced it has been hired for services at the Nordseecluster A wind farm two weeks after chartering an unmanned vessel for subsea repair and maintenance work.
DeepOcean will take on the project managing and engineering, offshore preparation work such as survey, trenching, boulder relocation and cable route location, as well as burial assessment, offshore trenching and substation preparatory work.
It will also transport and install inter-array cables and conduct seabed surveys and monitoring.
DeepOcean is also supplying three of the vessels required, namely the installation, trenching and walk-to-work vessels.
"We are very excited about supporting RWE's plans for the Nordseecluster, where the merger of the four sites offers attractive economies of scale and allows the supply chain to reliably plan and leverage synergies," said DeepOcean CEO Øyvind Mikaelsen. "Awarding the contract for the initial phase with the opportunity to provide our services for Nordseecluster B will allow us to significantly reduce the project execution risk.
"This is a risk-reducing measure that will benefit both RWE and us suppliers."
In January, the German government set a target of 30GW of installed wind power capacity by 2030. By 2035 it has suggested there will be another 10GW added.