Dutch firm FibreMax has signed an MoU with Entrion, a Texas-based manufacturer of FRP monopile designs, to increase the depths in which offshore monopiles can be installed.
FibreMax's fibre tendon technology will be integrated with Entrion's Fully Restrained Platform (FRP) technology, which aims to allow monopiles to be installed at depths of 100 metres,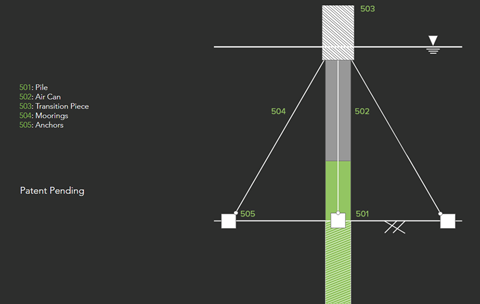 Entrion says its technology combines fixed and floating platform technologies by restraining motions in all degrees of freedom for the monopile and moorings.
The FRP tech is still patent pending, and Entrion is working on a feasibility study on specific sites.
"The FRP monopile design accommodates mooring solutions based on chain, spiral strand wire and high strength fibre tendons," says Entrion. "Under this MoU, Entrion Wind and FibreMax will cooperate to qualify FibreMax's high strength fibre tendons for the FRP design and develop site-specific offers for the use of fibre cables for various FRP mooring configurations."
FRP works with taut moorings with pile anchors or suction piles and so far can be installed in water 65 metres deep.