A new hybrid multi-purpose workboat has been put to use at the Port of Lowestoft collecting marine litter and debris from the water surface.
Made from recycled aluminium which can be reused again at end of life, the Gannet also has a solar-panelled roof generating green electricity.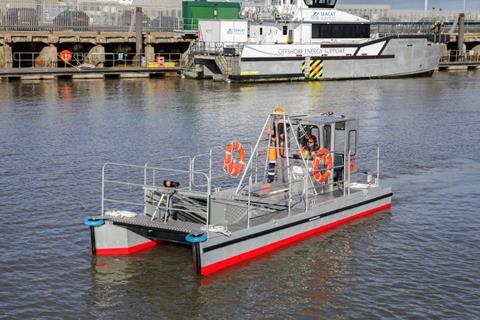 "The Gannet will play a vital role in helping us with the clearance of litter that regularly cumulates in the harbour as a result of the strong prevailing from the southern North Sea," said ABP's Tom Duit, operations manager at ABP's Port of Lowestoft.
"The new craft will also play an important role in supporting our day-to-day operations, for example supporting vital bridge maintenance activities, in a more sustainable way," he said.
The vessel's developer – Water Witch – is a Liverpool-based, family-owned business which has developed a range of workboats. The Gannet is its Versi-Cat Trash Skimmer, and was delivered to the Port of Lowestoft on 1 March 2023 to function as the port's new primary work boat.
Following the port's tradition of naming boats after birds, the boat was named by a pupil from a local primary school who chose Gannet because 'they often get caught in plastic pollution. I thought the boat could catch the rubbish instead of the rubbish catching the bird."
ABP's investment in the Gannet is the latest step in its recently published sustainability strategy – Ready for Tomorrow – which is backed by a plan to invest around £2 billion across decarbonising its own operations by 2040 at the latest and in major infrastructure projects to enable the wider UK energy transition.