Clean Sea Solutions is using software and AI-optimised autonomous systems to deliver cleaner waters to the Port of Oslo, Alesund and beyond.
The company, with just 10 staff at time of writing, is one of the many pollution control companies that has recognised that most marine floating plastic and litter items descend rivers to reach the sea, often passing through a port on route. Additionally, some plastics destined to become damaging seabed pollutants are still afloat as they pass through the relatively calm conditions of a port.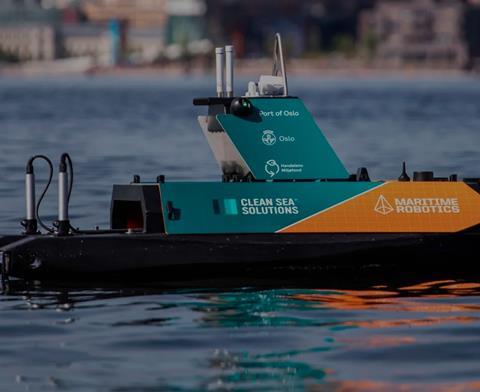 The company, which began in 2018, has an integrated three-pronged attack on the problem: autonomous port waste collection boats; a pontoon waste collection device; and a floating waste station for marinas.
For the 'Aquadrone' waste collection boats, the company has taken a Maritime Robotics multi-purpose Otter platform, retrofitted and programmed it to become a waste-collector on water that returns, autonomously, to a set waste barge location, self-empties and continues to collect more rubbish.
It is described a 'smart' in that it tailors its litter collection activities to target areas where perhaps due to prevailing currents and winds, it has collected more litter in the past. It can also tailor its routes and search locations to suit the weather conditions, so saving on battery life. Fully electric, it runs for 20 hours between charges, and it returns autonomously to its own charging station once the juice runs low.
The Aquapod, which is also targeted at in port waste collection is a waste collecting floating dock, somewhat like a much larger version of the popular Seabin. It passively collects all floating particles over 2mm, using a 1.2kW pump to sift out the rubbish. Like the Seabin, it is set up in a single location, so it is suited to a rubbish hotspot, but its 600-litre waste capacity means it can operate autonomously for some days without needing emptying.
Clean Sea Solutions has competitors in the individual solutions, but its USP is that it offers an integrated port waste solution, with the different technologies working together to address the problem. It proposes to work with ports on a leasing model. The company, now in its commercialisation phase, forecasts revenues in 2026 of NOK90 million (€8 million).