Collaborative R&D projects are seeking to examine the efficacy of polyamide lines for mooring of floating wind turbines.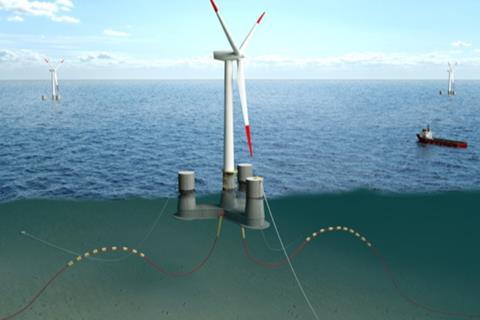 But because polyamide deforms over time, researchers want to qualify its long-term behaviour and that's where the Polyamoor (2017-2020) and Monamoor (2020-2024) projects, led by France Energies Marines, Naval Energies and Ifremer, come in.
The experiment carried out over nearly two years shows that the deformation is limited and additional work indicates it is possible to extrapolate the results of tests lasting only a few hours to the operating life of a farm (20 to 25 years).
Long-term research
As the long-term behaviour of this type of synthetic fibre is not well known, its suitability for a period equivalent to the operating life of a windfarm is a major challenge.
Polyamide is a material with a complex behaviour that deforms over time if it is subjected to a load. This phenomenon, known as creep, if too pronounced, could lead to a relaxation of the mooring line tension and therefore a significant displacement of the wind turbine.
Work undertaken by Laure Civier and her co-authors as part of the Polyamoor and Monamoor projects, has recently been published in the journal Ocean Engineering.
The projects have developed a specific test bench to study the deformation of polyamide mooring lines allowing three sub-rope samples to be tested in parallel. Each mooring line sample is immersed in a water-filled tube, put under constant tension by suspended weights and then monitored for almost two years.
Three levels of tension have been tested, one representative of what is expected in normal times and two others that are higher, but compatible with an average tension over a few hours during a storm.
Results have shown that the cumulative creep is limited and its speed is stable for the three tension values.
This information is crucial for the floating wind turbine industry, as it confirms that the service life of polyamide is compatible with that of a commercial windfarm. This could open up the way for more widespread use of this material for mooring lines.