Rovco has been contracted by Flotation Energy to carry out a geo-environmental survey at its planned Cenos floating offshore windfarm, 200 kilometres off the north-east coast of Scotland.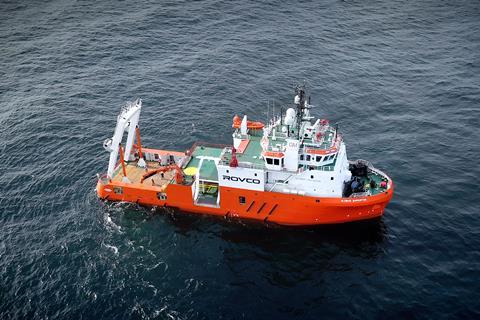 It is expected that the project will include subsea studies of the floating wind turbine generators, mooring line anchor locations, inter-array cables and fixed foundation substation areas.
"We're extremely pleased to be working with Edinburgh-based Flotation Energy on this project. The company has been a significant contributor towards the building of a strong offshore wind industry in the UK and beyond," said Craig Davis, director of site characterisation for Rovco.
"Our dedicated site characterisation division was launched specifically to provide the full range of survey solutions to offshore wind projects such as Cenos, in order to take it from pre-construction to first energy as swiftly, efficiently, and cost effectively as possible."
Efficient process
Rovco will deploy its multi-purpose, custom-reconfigured DP2 survey vessel, the Glomar Supporter, to carry out the work.
On long-term charter from Glomar, the vessel underwent an extensive rebuild and refurbishment in 2021 and has been reconfigured to permanently carry an entire suite of state-of-the-art survey sensors and equipment.
Scope of work for Rovco involves the acquisition of geophysical and benthic information to provide detailed data to inform environmental impact assessment (EIA) consents and the engineering processes from engineering to early front-end engineering and design (FEED) study.
The geophysical element of the workscope requires the acquisition of multi-beam echo sounder, side scan sonar, magnetometer, sub-bottom profiler and multi-channel seismic data, along with associated analysis, processing, interpretation and reporting.
Flotation Energy's partner on Cenos is Norwegian-offshore wind company, Vårgrønn; a joint venture between energy company Plenitude (Eni) and investor HitecVision. The joint venture secured a lease earlier this year as part of Crown Estate Scotland's INTOG (Innovation and Targeted Oil & Gas) round.
Located in the Central North Sea, the 1.4GW Cenos floating wind development will cover approximately 333km2.
The project aims to decarbonise North Sea oil and gas assets and remove over two million tonnes of CO2 a year, helping to support Scotland towards its 2045 Net Zero targets.