New energy transition platform Cyan Renewables has stepped into the European offshore wind market by acquiring its first European vessel.
In September last year, Cyan was set up by the Singaporean infrastructure fund manager Seraya and has now confirmed plans to buy the Service Operations Vessel (SOV) Groenewind from marine contractor Deme Group.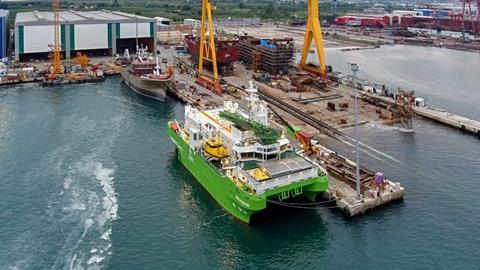 Groenewind, built at Cemre Shipyard
Groenewind was built two years ago at Cemre Shipyard in Turkey and is operating under a 17-year contract with offshore wind farms in Belgium.
She was the first twin-hulled DP2 advanced dynamic positioning SOV in the world, Seraya claims, enables safe crew transfer in significant wave heights and holds vessel position in rough seas. She has a motion-compensated gangway and daughter craft and can carry 24 technicians.
Cyan will then invest in a range of vessels dedicated to the offshore wind industry, such as Crew Transfer Vessels and Wind Turbine Installation Vessels, details of which have not yet been given.
It is little wonder that Seraya Partners sees opportunities in this field, estimating the offshore wind sector to be worth some $33.5 billion, by its own calculation, and aims to own and operate a $1 billion portfolio over the next three years. It says the sector is expected to grow by 11 times from 36GW of installed capacity in 2020 to 386GW by 2035.
and is expected to grow by eleven times from 36GW of installed capacity in 2020 to 386GW by 2035.
"Offshore wind farms form the backbone of energy transition, reducing our dependency on fossil fuels," said James Chern, chairman and managing partner of Seraya Partners. "Asia is starting to develop offshore wind farms and there's a clear value proposition that Cyan can deliver to end users. We are fully committed to growing Cyan into the world's first pureplay offshore wind farm vessel operator.
"We are a first mover in Asia and one of the few players globally with a proven track record in the offshore wind services sector. The long-term contracted nature of these vessels, often with inflation and cost pass through structures, make them ideal core infrastructure assets that our investors seek."