Spirit Energy is experiencing its busiest year-to-date in decommissioning with offshore campaigns across the North Sea and the East Irish Sea.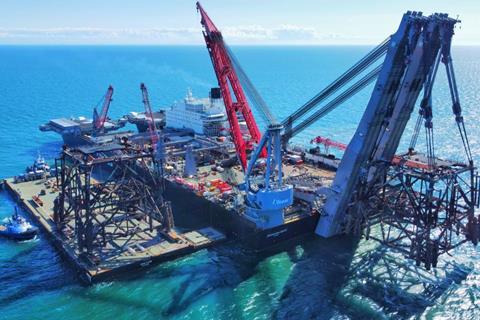 The most recent activity to complete is the final phase of the campaign to remove the DP3 and DP4 installations in the Morecambe Bay development in the East Irish Sea.
"We are very proud of our efforts and achievements in decommissioning carried out by a first-class team of Spirit employees working collaboratively with the supply chain," said Neil McCulloch, CEO, Spirit Energy.
"Our team has thought strategically and formed long-term, high-value and high-trust relationships with our supply chain partners and we are very pleased to have achieved such a high level of local content and repeat business with UK and Netherlands based firms where our core business lies."
Record year
Completed by Allseas with its Pioneering Spirit, a total of 9,000-tonnes of jacket structures were removed from Morecambe Bay in tandem using the jacket lift system on the vessel.
They were then loaded directly onto the Iron Lady barge to be transferred to Fife for recycling.
The recent successful completion of the removals of the DP3 and DP4 jackets marks a significant milestone towards the longer-term transition plan for the Morecambe hub being converted into a world-class carbon storage cluster.
The Morecambe Bay project is just one of many that Spirit has been working on this year.
In the Central North Sea (CNS), a 14-well P&A programme across four fields; Chestnut, Birch, Larch and Sycamore, is being executed from Well-Safe Solutions' Well-Safe Defender vessel.
Chestnut's well decommissioning has been completed, bringing to an end the fifteen year story of the Chestnut field.
In the Southern North Sea (SNS), during a single mobilisation, Heerema Marine Contractors has successfully removed three topsides and three jackets with SSCV Thialf crane vessel, where DeepOcean is set to recover subsea infrastructure from six assets later this year.
The recycling of all structures will be performed by Thompsons of Prudhoe in the Port of Blyth, making Spirit Energy the first user of the decommissioning alliance between the two companies.