The future of two US offshore wind farms has been left in question after one was sued and politicians called for another to be paused.
In a statement that the Ocean City's Daily News Source published and headlined 'Not so fast, Orsted', the Danish engineering giant was named as one of two defendants in a case being brought against the project Ocean Wind 1 on the east coast of the US.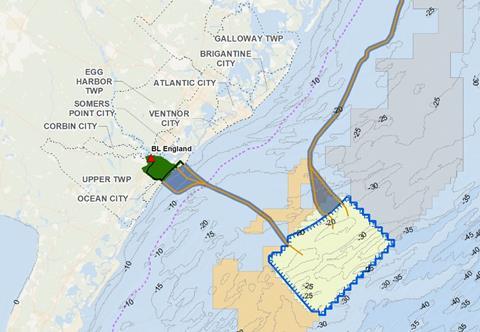 Also being sued is the New Jersey Department of Environmental Protection (NJDEP), which issued a permit for the project in April this year, before opening a 30-day comment period from June 1 to June 30.
Three groups of defendants – Save LBI, Brigantine Beach and Protect Our Coast NJ – have joined forces to sue them, claiming the 100 turbines, which would be 15 miles off New jersey's coast, will 'crush and destroy the seabed, each tower weighing up to five million pounds' (2,200 tonnes).
"NJDEP has acknowledged the wind turbines will destroy marine habitat, compress the sea floor, severely damage marine communities, compromise migration corridors for endangered marine mammals, cause commercial fishing stocks to decline, and injure the beach economy," said Bruce Afran, attorney for the three groups. "Yet, the State persists in the bizarre belief that this massive engineering project will not injure our state's coastal zone, one of the most important marine communities on the east coast and the core of New Jersey's $47 billion tourist industry."
Over on the west coast, in Oregon, a letter has been sent by Oregon governor Tina Kotek and members of the state congressional delegation to the Bureau of Ocean Energy Management to slow down its planning process for offshore wind and 'better evaluate their impact on the environment and Oregon's economy'.
"Many valid questions and concerns remain about floating offshore wind," the letter said. "These must be addressed transparently before we can support proceeding further toward any substantial development decisions on the Oregon coast."
While claiming to be in support of action on climate change. The letter said: "However, any offshore wind project must be done responsibly and in collaboration with local communities, including fishing and tribal stakeholders."