Another £43 million (€39.8 million) has been made available by the UK government for winners of its fourth Clean Maritimes Demonstration Competition, which was launched today.
The competition is for technologies 'that will help decarbonise shipping' and 'support UK industry to deliver net zero in the maritime sector'.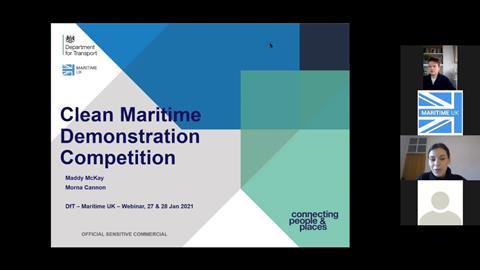 The fourth round brings the total spending in this and previous rounds to £129 million (€151 million), and in the first three rounds 105 projects have been awarded a share.
"Pushing the boundaries of possibility is integral to the UK's global ambition of a greener maritime sector," said maritime minister Baroness Charlotte Vere of Norbiton. "That's why today's new round of funding continues to set that course, not only keeping our climate goals on track but also boosting opportunities for private investment, new jobs and growing the economy."
"The UK's maritime sector is one of the most competitive and innovative in the world and today's latest Clean Maritime Demonstration Competition funding is testament to that."
Applications for funding can be made from August 2 until September 27.
Competition scope and eligibility criteria are here.
"Instilling confidence in the UK shipping industry to invest in new technologies and fuels is central to reaching net zero," said UK Chamber of Shipping chief executive Sarah Treseder. "This funding, with a focus on real world demonstrations, will help to do that and unlock investment from across the shipping community to deliver the technologies that will reduce emissions while ensuring shipping remains at the heart of the UK's economy."