Sea trials of AWS Ocean Energy's wave energy device have shown encouraging results, exceeding expectations by 20%.
At the European Marine Energy Centre's Scapa Flow test site in Orkney, tests showed that the Waveswing wave energy converter captured average power over 10kW and peaks of 80kW, during a period of moderate wave conditions.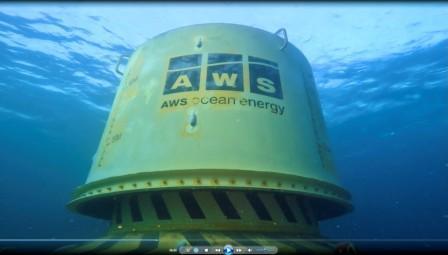 Testing also showed that the subsea converter continued to deliver even during poor weather conditions and was straightforward to install in under 12 hours.
Simon Grey, chief executive of AWS Ocean Energy, called the Waveswing the 'real deal'.
"While we have always been confident about the performance potential of the Waveswing, it is wonderful to see that confidence endorsed by real data," he said, adding that the company was now looking for commercialisation partners.
When installed, the 50 tonne, seven-metre high, four-metre diameter device is moored to a gravity-base anchor on the seabed using a single tension tether and sits around three metres below the surface. It generates energy by reacting to changes in pressure caused by passing waves and is designed to react to long ocean swell waves as well as short, wind-driven seas, for high energy capture.
"The Waveswing features a single absorber design, with unique features which make it ideal for remote power applications such as powering subsea oilfield assets and oceanographic monitoring," said Grey.
"However, for utility scale power, we are convinced the future lies in multi-absorber platforms which can achieve the scale necessary for wave power to make a significant contribution to renewable energy supplies. We expect to develop platforms hosting up to twenty 500kW units with a potential capacity of 10MW per platform."
The £3.4 million (€3.8 million) prototype development project has been funded by Wave Energy Scotland, as part of the Novel Wave Energy Converter development programme.