Researchers are exploring whether hybrid mooring lines show promise for use on floating windfarms.
The synthetic lines, made of chain and polyamide rope, are being tested as part of the Monamoor project, led by France Energies Marines and Ifremer, to understand better how they age and behave long-term.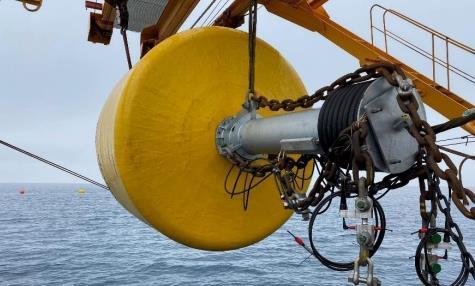 Sea trials lasting around ten months are being conducted to simulate as closely as possible the real conditions under which the lines would be used.
A demonstrator buoy – Monabiop – has been put to use at the Mistral Mediterranean test site, owned by Valeco-EnBW, to be a small-scale representation of the average dynamic forces created by a floating wind turbine.
Weighing seven tonnes, the buoy is equipped with a semi-tensioned, hybrid chain-nylon mooring line plus sensors measuring tension and elongation.
Researchers are also studying whether the polyamide lines are colonised by living organisms such as algae and molluscs and the effects of elongation on this phenomenon.
Launching the demonstrator took four days and involved three scientists from France Energies Marines, the Foselev Marine vessel Castor 02 and its crew of nine, four divers and underwater guidance using an ROV. A team of divers from Ifremer will install additional sensors this month.
The demonstrator data will be compared with the results of the earlier laboratory experiments to validate the digital tools previously developed.