Leasing and financing company Maritime Partners has announced that the "world's first methanol-fuelled towboat" will be available for charter in 2023.
Louisiana-based Maritime Partners in conjunction with US naval architect Elliott Bay Design Group, US hardware developer e1 Marine and Europe-based ABB is just one of several industry players from tug owners, designers and shipyards to technology groups developing alternative-fuelled tugs including: all-electric, battery mechanical hybrid, LNG and methanol-fuelled variants all intended to provide greener solutions for a naturally energy intensive sector while at the same time satisfying regulatory environmental standards.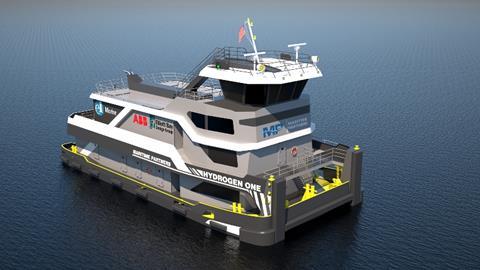 Maritime Partners says decarbonising the sector poses substantial challenges particularly due to the inherent size, space and weight limitations of tugs. Batteries are one solution but only suitable perhaps for certain operating profiles and requiring regular recharging. LNG is another option but the pressurised or cryogenically stored gases present extra demand on space within the tug with availability of fuel another potential problem area. The developers say methanol is available in 88 of the world's top 100 ports avoiding the need for costly diversions.
The tug, to be named Hydrogen One, will be IMO 2030 compliant, meet US Coast Guard Subchapter M requirements and have an operational range of 550 miles before refueling. Its availability in Maritime Partners' charter fleet will "meet the pressing demand for sustainable towboat operations".
Designed by Elliott Bay Design Group it will use proven, efficient technology throughout including ABB's electrical power distribution and automation technology. e1 Marine's methanol-to-hydrogen fuel cell will involve its reformer technology generating hydrogen from methanol on demand, which the developers say will make it considerably safer than transferring and storing hydrogen directly, with the tug's crew requiring minimal additional training to use the technology.
Robert Schluter, managing director at e1 Marine, said: "Converting methanol to hydrogen reduces the CO2 output and our reformer technology eliminates the complexities of direct fuelling and storage of gas marine fuels. By producing hydrogen at the point of consumption for a mixture of methanol and water, e1 Marine's system enables the safe, efficient and economic use of hydrogen as a marine fuel.
"The technology is ideal for anything that requires continuous power over extended periods including workboats and medium range passenger vessels, or to provide backup power in ports and harbours."