The heaviest offshore wind turbine monopile to date at almost 2,000 tonnes has been manufactured by a German civil engineering firm.
EEW Special Pipe Constructions (EEW SPC), part of the German civil engineering firm EEW Group, has completed the 1,895-tonne monopile for the first commercial offshore wind farm in the US, the 800MW Vineyard Wind 1, which is being built 15 miles off the coast of Massachusetts.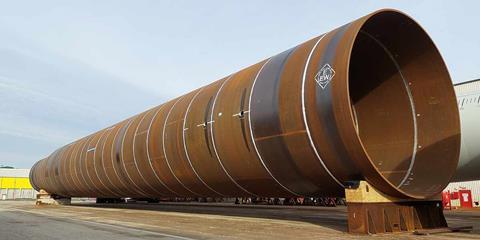 EEW claims the new monopile has broken its own record, which it set in July 2022. It also says that this summer it will process almost 100,000 tonnes of steel into monopiles, each with a diameter of 9.6 metres and lengths of up to 85 metres.
"The American offshore wind market is one of the most important future markets for the EEW Group," EEW says. "With EEW American Offshore Structures (EEW AOS), which is located at the Paulsboro Marine Terminal in New Jersey, we are able to contribute to the energy transition in the US. The facility will create around 260 jobs in the first development and manufacturing phase."
After a slow start the US is really ramping up its offshore wind capacity, with the Biden administration vowing to deploy 30GW by 2030, which it says would power 10 million homes.