In an endeavour lasting almost nine hours, a 580 tonne hydraulic pile driving hammer has been transhipped at the handling facilities of Hamburg-based Wallmann & Co.'s universal terminal.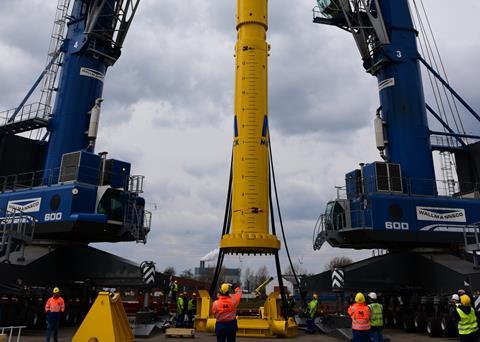 The MENCK MHU 3500S was bound for the Burbo Bank wind farm in the Irish Sea off Liverpool. The hydraulic hammer will drive monopiles into the seabed for the wind power units being erected off the coast of England.
Thorsten Koch, senior logistics manager for MENCK in Kaltenkirchen, said: "As a manufacturer represented worldwide by our special equipment, direct proximity to the Port of Hamburg, with all the storage and transhipment facilities offered by a rapidly accessible universal terminal, is of immense importance for us."
"Wallmann & Co. also offers us excellent interim storage and assembly facilities. Especially with the complex logistics involved in the transport processes for our particularly large and heavy pieces of equipment, these simplify exports all over the world," he added.
The main components of the hydraulic hammer were brought by land and sea to the Wallmann transhipment terminal in Hamburg for final assembly and loading. After interim storage with Wallmann, the hammer was loaded aboard the freighter Abis Belfast using the terminal's own special cranes.
MENCK staff then assembled the hammer whilst on board. Its impressive size, including a height of over 25m and a total weight of 584 tonnes, made loading of the assembled unit impossible. Instead individual elements, themselves weighing as much as 340 tonnes, had to be handled separately. Loading, stowing and securing the gigantic MENCK pile driving hammer called for precise manoeuvring to the last millimetre.
By Rebecca Strong