The first Zelim Guardian rescue craft has begun construction at Coastal Workboats shipyard in Exeter UK, and will have a complete powertrain package supplied by Seawork exhibitor Proteum.
Designed by Chartwell Marine, central to the Guardian's unique proposition is the Zelim 'Swift Rescue Conveyor', which is an innovative system for rescuing conscious or unconscious casualties from the water without harming the casualties or putting rescuers at unnecessary risk.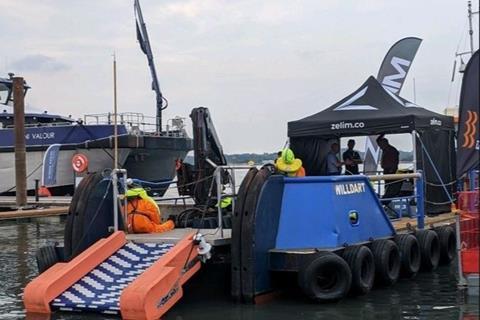 The Conveyor won the Innovation Showcase Safety category at the European Commercial Marine Awards at Seawork 2022, and was demonstrated on the water at the event.
Guardian is designed for speed and incorporates Zelim's two-step recovery system. The system's real time, AI-based casualty detection can spot and track multiple casualties in the water in all conditions. Once survivors are detected, Zelim's Swift Rescue Conveyor can recover casualties from the water in a matter of seconds. The technology was trialled and successfully demonstrated to offshore wind industry stakeholders at Race Bank Offshore Wind Farm, off the coast of Grimsby, in May 2022.
A remotely operated next generation fast rescue craft capable of unmanned recovery of up to nine people in distress, Guardian has rapid launch capability from a mothership or shoreside location by existing LARS (Launch and Recovery System) davit cradles, and boasts a transit speed of 35 knots. The vessel has the typical footprint of conventional FRCs and can perform search, standby and recovery tasks.
Scottish company Zelim says it has been designed 'casualty first' by experienced operational search and rescue personnel with onboard emergency medical provision for both manned and unmanned rescues. The open rear deck has been designed for heli-hoisting to enable efficient handovers as part of the rescue chain.
Autonomy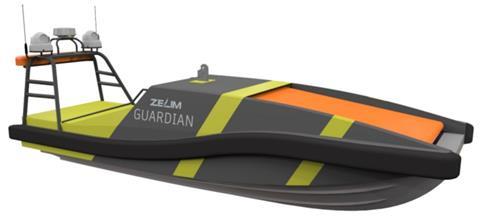 While the vessel is capable of operating autonomously, early development models will be capable of being crewed by two, reflecting the different legislative demands of the various maritime jurisdictions that Zelim plans to sell it into.
Guardian's remote command and control capability will make it the world's first uncrewed rescue vessel.
The design is aimed at providing enhanced capability to respond to man overboard incidents and close standby cover for offshore operations. Deploying from a larger vessel offshore, the idea is that Guardian will be first to arrive on scene to recover casualties and bring them back to the safety of the parent vessel.
The technology has already garnered interest from the offshore energy sector; however, Zelim believes it could revolutionise emergency response across the maritime industry. This is largely due to the vessel's capability to respond in conditions usually deemed too dangerous for crewed Fast Rescue Craft. The vessel has been designed to cope with extreme conditions far from shore, up to sea state 6.
For Coastal Workboats Director Brian Pogson, the partnership marks a major step forward in marine safety, with the potential to significantly remap search and rescue possibilities.
"We're delighted to be working in partnership with a company that shares our focus on finding safe, robust ways for technology and innovation to pave the way for a better, safer future at sea," he said. "It's an exciting time to be exploring the possibilities of what our ever-evolving technology offers and we're committed to ensuring that it is used to improve and safeguard our industry's future."
Sam Mayall, Zelim CEO, recognises the importance of partnering UK companies as his team continues to help secure the UK's reputation as a global leader in innovative maritime safety.
"When bringing ground-breaking technology to market you need partners who share your vision," he said. "We are thrilled that Coastal Workboats is on the journey with us. It's very important for us that our vessel is built here in the UK. Shipbuilding in this country has faced challenging times over the past few decades but the UK still produces fantastic vessels, including the lifeboats that protect our shores. We want that to continue."
Andy Page, of Chartwell Marine, the naval architects behind Guardian, said: "We are very proud to see the first Guardian Class vessel go into construction. It is satisfying to be working on this advanced lifesaving platform with like-minded people such as the teams at Zelim and Coastal Workboats. We look forward to sea trials later this year."
Guardian's propulsion package from Proteum consists of a Bukh P 400hp inboard diesel, Alamarin 285 waterjet and Glendinning Controls.
The vessel is scheduled for completion in the first half of 2023. On leaving the yard the vessel will undergo extensive sea trials before 'appearing at various industry events' later in the year. Fingers crossed she's ready for Seawork.