Damen Marine Components has delivered new equipment for a coastal research vessel being built at Holland Shipyards Group's yard in Hardinxveld-Giessendam.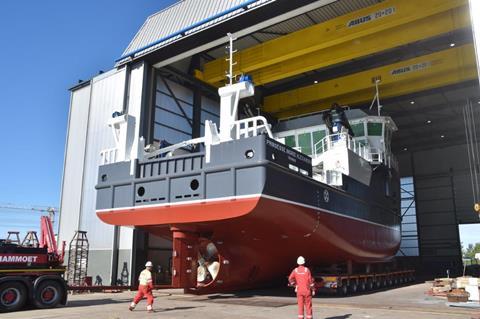 The single high-lift Barke flap rudder together and piston-type steering gear system is being fitted to a 35-metre coastal research vessel being built for the Norwegian Institute of Marine Research (IMR).
"We are confident that the combination of our Barke flap rudder and piston-type steering system will serve the IMR's latest research vessel well for many years into the future," said Wim Knoester, sales and marketing director, DMC.
"It has been, as always, a pleasure to be continuing our cooperation with Holland Shipyards Group that dates back to its formation over 40 years ago."
Specifically designed
DMC's Barke flap rudders are specifically designed for ships engaged in activities such as research, fishing and dredging that require excellent manoeuvrability, low noise and vibration levels and fuel economy.
Their progressively rotating flaps generate high lift forces at large rudder angles and low drag at small rudder angles, delivering the necessary performance in all situations. The enclosed linkage system also provides overload protection and prevents any material present in the surrounding water from entering the rudder assembly.
DMC's piston-type steering gear systems are an ideal match for the Barke flap rudders. They are highly reliable and, with multiple options regarding rudder stock connections, rudder angles and cylinders, the installation process is both efficient and economical when it comes to the space required.
The state-of-the-art ship called RV Prinsesse Ingrid Alexandra will undertake a wide variety of duties when it goes into operation. These range from data collection and fish stock sampling to the deploying and retrieval of ROVs, buoys, ocean landers, autonomous ocean gliders, AUVs and other equipment.
DMC and Holland Shipyards Group already have another project underway, with the former contracted to build five Optima nozzles Ø2625 for two newbuild 3,600 DWT inland waterway cargo vessels and three newbuild 3,800 DWT MPP coasters.