Greek shipping firm Oriani Hellas has announced the launch of what it says is the first autonomous robotic hull groomer in the world.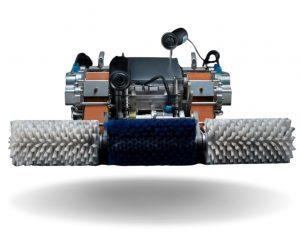 Working in partnership with the EEA Grants-funded Scrufy Partnership, a robotics and software project working on the development of robotic crawlers for this purpose, Oriani has launched BlueBOT, which magnetically attaches to the hull of a vessel and grooms the surface of biofoul.
It also collects data, generates reports on the state of the hull and how effective the grooming has been.
BlueBOT is also certified for underwater operation near explosive environments, the company says, and can navigate autonomously on the vessel surface undertaking its various tasks, including corrosion mapping, coating thickness measurement, in-service hull cleaning, and so on.
"The robotic platform will be able to withstand hydrodynamic forces and move freely around the hull while the ship is moving," says Oriani. "A novel software and algorithm for analysis and visualization of non-destructive testing-results, as well as a more sophisticated extension of the software that will enable the robot to navigate autonomously on the ship hull, will also be developed."
"Oriani prides itself on identifying the most innovative digital solutions to represent within the maritime industry, ones that truly deliver value to shipping companies on their voyage of digital transformation," said John Vandoros, business development director of Oriani Hellas. "BlueBOT and the state-of-the-art technology that it contains represents not only the huge potential within robotics, but how that potential can be harnessed and delivered in the real-world to achieve actual change."