Hefring Marine has showcased its artificial intelligence network that promises to reduce fuel consumption, decrease emissions and improve crew safety at this year's Seawork in Southampton, UK.
The Intelligent Marine Assistance System (IMAS) gives real-time information to those both on board and shoreside, continuously improving as its machine-learning is honed.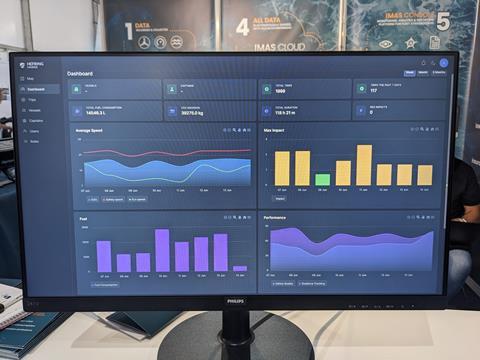 "We haven't seen anyone else with this level of dynamic guidance," said Jóel Ingason, embedded systems engineer at Hefring Marine. "It's a toolbox for overall operational management," he added.
Studies by Hefring have concluded that the average boat operator uses around 15% to 18% more fuel than needed. If they had the right data, says Hefring, these figures could be reduced with no discernible impact on performance.
Suitable for a wide range of applications, such as search and rescue (SAR), tourism, workboats, crew transfer vessels and charters, the IMAS uses a motion sensor to gather data and determine the optimal highest speed whilst reducing slamming and enhancing safety for the crew. The system also provides guidance on fuel use to maximise efficiency and reduce emissions.
"A system like this can always help you," said chief operating officer and co-founder of Hefring Marine, Björn Jónnson. "Even if you have years of experience there is still considerable room to reduce fuel and improve sustainability," he added.
IMAS is already being used by SAR teams across Scandinavia but Hefring has ambitions beyond search and rescue and is keen to promote the system's benefits to private owners. "It can reduce insurance premiums," said Jónnson.
The company is also involved in a new project in Canada, working with small-scale fishers to see whether the system can improve sustainability, eliminating the need for expensive engine or equipment replacements.