Singapore-based Penguin Shipyards will build its largest vessels yet, two 56m passenger ferries designed by naval architect Incat Crowther.
The company announced a $40 million contract with Kongsberg Maritime at Seawork, where they shook hands on the maritime equipment manufacturer supplying Kamewa S71 S4 waterjets for the vessels, which will take four each.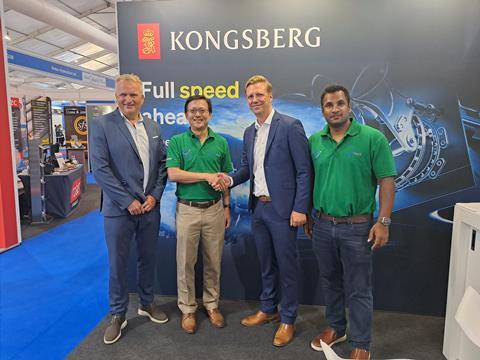 From left: Ottar Ristesund, senior vice president, Propulsion & Engines Sales, Kongsberg Maritime; James Tham, managing director, Penguin Shipyard; Magnus Fahlén, senior vice president, Waterjets, Propulsion & Handling; and George Philip, general manager, Group Commercial and Fleet, Penguin Shipyard
The ferries, which will have a speed of 34 knots, are specifically for people and cars and will operate between Abu Dhabi and a nearby island.
Speaking to Maritime Journal, Penguin managing director James Tham said Penguin had been selected to build the vessels out of a list of about 16 candidates in a two-year tender process.
Penguin then selected old favourites Kongsberg to deliver the waterjets.
"We have worked with Kongsberg many times, and from the very beginning, even when there was no guarantee that Kongsberg would be selected to supply the waterjets, they were willing to bet on us and committed time and resources as if they had already won the contract," he said.
"We liked this approach, and we didn't get it from the other potential suppliers so there was only one company we felt we could award the contract to - even though they weren't the cheapest."