Demand for connectivity and real-time data has surged in the maritime industry, and OneWeb, with its 634 satellites, has launched a service at Nor-Shipping.
The firm, which launched the last couple of hundred satellites in an agreement with the Elon Musk firm Space X, claims its satellites are higher than others in the market, which means there don't need to be as many - the higher they are, the more Earth surface they cover.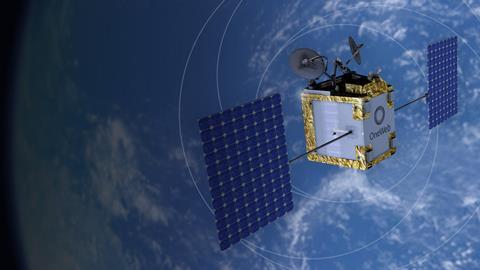 But it's not just about connecting people - these systems, which are being launched all over the world, need to be completely secure.
"Connectivity alone is not very helpful," said Carole Plessy, VP Europe and Maritime. "You need a completely private network with everyone in the chain to be secure, and we provide the underlying connectivity. Right now there's a revolution in connectivity at sea that's taking place, a change in business models and revenue streams."
OneWeb owns and operates 634 low-earth satellites down to 35 degrees latitude with high-speed, low latency technology that delivers real-time data to all marine vessels, including survey ships and offshore wind vessels. Its completely secure network operates away from the Internet, so it cannot be hacked.
The North Sea, says Plessy, is a perfect example of an environment where such instant data is vital, as the sea floor changes there more than anywhere else in the world.
"it is constantly changing, it's the most treacherous in the world," she says. "With wind turbine installations, you need this data connectivity first, while building them, second, while opperating them. The crew needs to be connected."
Hardware for the technology has been developed by working with Intellian and Kymeta, two well-known brands working in the maritime communications sector.
One Web's "Try Before You Buy" service will take bookings from maritime users who want to try the 100mbps+ enterprise grade flexible connectivity packages at sea. With its operational satellites now in orbit, the OneWeb constellation is complete and fully operational and once final ground stations are completed and operational requirements in place, full global maritime services should be available by the end of the year.
Based on a Service Level Agreement (SLA) model, OneWeb customers can choose flexibility underpinned by guaranteed service levels, defined by straightforward CIR (Committed Information Rate) and/or MIR (Maximum Information Rate) packages.