Danish firm Force Technology has released a new generation ultrasound inspection scanner for subsea pipelines and infrastructure that will be key to offshore wind farm inspection work.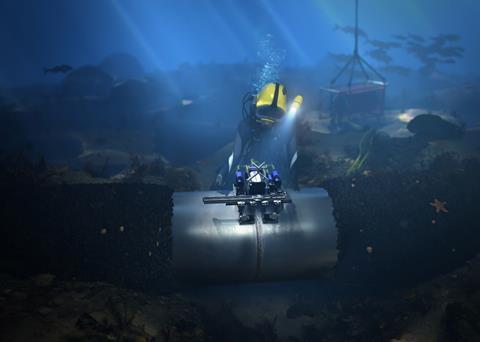 With simplified configuration, the P-Scan 5 is now more user friendly in a wider range of applications, Force Technology says, such as submerged pipeline inspection, flowlines, subsea templates, manifolds and offshore turbine subsea structures.
It will be possible to get data from previously inaccessible parts of compact subsea infrastructure with 'the tightest, most inaccessible geometry', the firm says.
"Whether deployed by divers or remotely operated vehicle (ROV), Force Technology can now deliver more complete reports on a submerged structure's condition, based on data acquired by the latest generation phased-array scanning featured in P-Scan 5," the firm says. "Improved data quality and classification also pave the way to using Artificial Intelligence and Machine Learning for data analysis and interpretation, helping to optimise the reporting workflow."
"Our subsea business inspects underwater structures and pipelines, condition-checking them for dimensions, corrosion cracking and deformation," said Ole Nørrekær Mortensen, Senior Project Manager, Advanced Inspection, FORCE Technology.
"With advanced modularity we can quickly and easily build systems for the biggest or smallest structures using the same familiar and trustworthy technology platform, meaning we can unlock access to areas that have never been scanned before, and better match any kind of geometry for faster inspections in general."
"We aim to provide customers with detailed data and advice to help them plan repairs and maintenance that keep their structures safe and operational. The new capabilities will help them to comply with regulations and make sound decisions about new investments, maintenance strategies and the overall integrity management of their assets."