UK marine safety equipment maker Seago has met the criteria for standard ISO 9650-1 Type 1 across its entire liferaft range.
The Sea Master Plus range comprises liferafts that can take between four and 14 people, and is aimed at the light commercial, recreational and small fishing vessel market.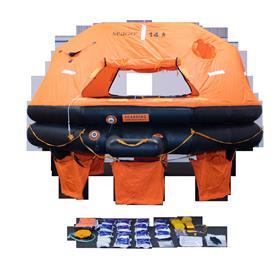 The company's 14-person raft is the most recent addition to Seago's range of equipment, and like all the others in the range, features an inflatable boarding step, twin Butyl rubber chambers, four water ballast pockets and an insulated floor to retain heat better.
"The new approvals presented us with a great opportunity to not only refresh our existing range to target a wider audience, but to extend it to include a 14-person option," said marketing manager Kieron Sullivan. "We are seeing many of our customers becoming more safety conscious and so, to have an ISO liferaft range that features design considerations found on our SOLAS approved rafts, is a great selling point."