SMST has been awarded a contract by Fincantieri Marine Group for the delivery of a motion compensated gangway on a newbuild service operation vessel (SOV) for Crest Wind.
The Telescopic Access Bridge L-Series gangway has an integrated crane function and adjustable tower and height.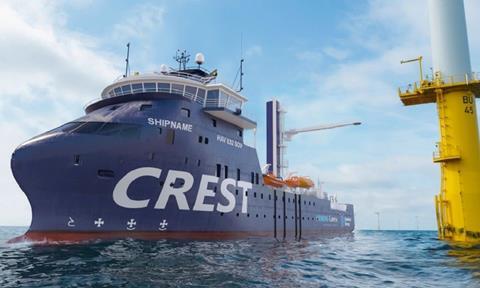 "The ABS certified gangway we are supplying to Fincantieri will feature a 3D motion compensated hoist and travel system with increased lifting capacity," said Jan Eelke van der Meulen, Sales Manager at SMST.
"This allows the gangway to be used for 3D offshore lifting and container handling in port," he added.
The Jones Act-compliant service operation vessel will go into service in 2026 on a long-term charter deal with Siemens Gamesa, providing support to the Dominion Energy Coastal Virginia Offshore Wind project.
It will be operated by Crest Wind, a joint venture between US-based Crowley and Danish firm Esvagt.
"With the combined expertise of Esvagt and Crowley, we can deliver the best of service to the evolving clean energy sector in the US," said Marcus von Spiegelfeld, director of vessel operations for offshore wind at Crowley.
"Working with Fincantieri, SMST will support this goal with their equipment to be installed, reliability and quality service, as the vessel helps advance the US offshore wind development and performance."