An Auckland, New Zealand-based marine engineer has teamed up with a local software design company to offer a new solution for paperless engineers' logs.
Founder of Mariners Log Ken Sinclair, after 10 years' marine engineering experience across the commercial and leisure sector, was convinced technology could take much of the tedium and repetition out of daily maintenance checks.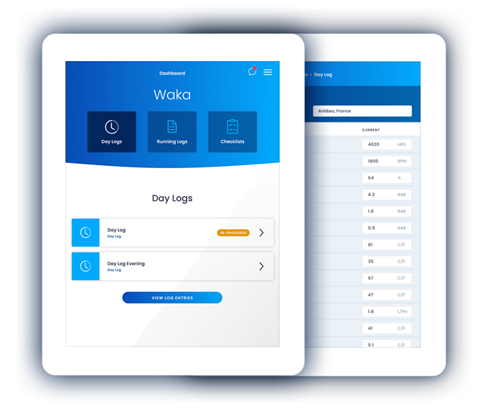 "On any commercial vessel, the engineer will do his rounds every morning, recording temperatures and lubricant data of all generators, propulsion engines etc," he says. "These records will be, or ought to be, meticulously noted down on paper documentation that is typically filed away in a folder, most likely never to see the light of day again.
"Humans are not great at such repetitive tasks, and over time mistakes and losses of concentration can creep in. This can be a big problem if the data needs to be pulled up again.
"Data is the life blood of a ship. It's often all you've got to interrogate if something goes wrong."
Sinclair has so far self-funded Mariners Log, and when we met him was seeking further investment with the help of global start-up hub Yachting Ventures.
He has taken his industry experience and teamed up with Pattern Limited, a local software development contractor (Pattern's co-founders are Mariners Log's CEO and CTO). Sinclair has brought his knowledge of how marine engineers work, what matters most, what their daily tasks are and how they can be streamlined, while Pattern has brought the software capabilities to make it all happen.
The resulting system, through customisable forms, automates engineering logbooks and safety checklists, making the data available for later analysis.
Mariners Log consists of a mobile-and-web application compatible with all modern devices and operating systems.
It offers digital cloud storage of all critical ship documents, reducing clutter aboard and potential for loss or damage. The system does not require constant web access: in areas of intermittent connection, all data is stored locally until the system senses it can be uploaded to cloud storage.
For day logs, the system has some templated forms set up, based on the experience of various vessel types, which can then be fully customised to suit individual vessels.
This is not the only paperless ships' log-keeping product on the market. There are competitors from Sealogs, MTU and Idea PMS to name but three, and they all offer slightly different sets of capabilities.
Mariner's Log looks to be competitively priced, with licences for 4-5 users coming in at €70 per month, and cheaper if billed annually, according to its website.
The number of engineering positions onboard defines the number of users, for example, three engineers on rotation (six engineers in total) would require three user logins.
With monthly billing and a free two-week full access trial, it looks like taking a look at it might not entail too much in the way of irreversible commitment.