VEEM Limited will supply its VG70, VG100 and VG140 marine gyrostabilisers to Strategic Marine on an exclusive basis for use on some of its crew transfer vessels.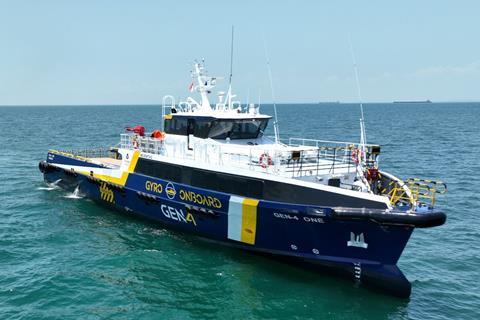 The gyros will be installed on Strategic vessels within Southeast Asia and on specific windfarm crew vessels in Europe, but some may be sold on to third parties for retrofits or newbuilds within the exclusivity boundaries.
"We believe that the VEEM gyro provides a significant performance advantage to our fast crew boats," said Chan Eng Yew, chief executive officer, Strategic Marine.
"Strategic is committed to the fast crew boat market as we have demonstrated through our expansion of facilities and orders of engines. We see the introduction of our fourth generation FCB with the VEEM gyro as a game changer that will be embraced by offshore energy operators in Southeast Asia and elsewhere around the world."
Ongoing commitment
Strategic Marine will immediately order 12 VEEM gyrostabilisers for scheduled delivery over the next three years and will promote the use of VEEM gyros on its vessels.
The boatbuilder has previously purchased two gyros and has an existing live order with VEEM for one, bringing total orders on hand to 13.
Strategic Marine has an option to extend the exclusivity for a further year provided it has met all its obligations and bought a further three units.
"We have worked closely with Strategic Marine in the incorporation of the VEEM gyro into their fourth-generation fast crew boat platform and share their excitement over the potential of this vessel," said Mark Miocevich, managing director, VEEM.
"With Strategic Marine's clear commitment to the market and to VEEM's product through the placing of orders, VEEM is very pleased to commit to exclusivity and work with Strategic for the next three years."
VEEM and Strategic Marine have been working together for over a year on the incorporation of the VEEM gyro into Strategic's latest fourth-generation fast crew boat.
The boatbuilder launched the new vessel to the offshore energy industry in Singapore in March 2023. Strategic is marketing the gyro as a unique selling point for the vessel's capabilities.