Mark Jones of PSM reviews the important role played by monitoring and control systems for floating wind platforms and looks at the benefits for operators and investors.
Wind power is forecast to grow exponentially over the coming decades, taking its place as a major player in the renewable energy mix. The number of offshore wind farms in the world is still relatively small but gaining momentum with wide-scale commercial expansion expected into the 2030s. Moving offshore offers the potential for delivering greater capacity, with high wind speeds offering an abundance of year-round power. At the same time, installation in depths of 62 metres or more ensures a minimum of disruption to landside businesses and residents.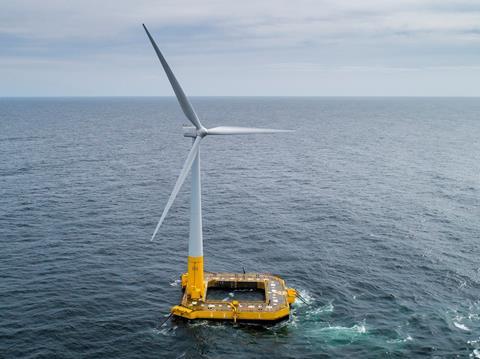 Floating wind farms offer the benefit of easier manufacture and installation, since they can be built partially on land and towed to site, which avoids the cost of specialist installation vessels, such as jackup and dynamic positioning vessels, and replaces them with cheaper tugboats and cable laying vessels.
Nevertheless, the cost of creating the infrastructure for offshore farms can be considerable.
Initially regarded as an expensive proposition, floating platforms are now becoming more attractive as a viable energy alternative however, with advances in technology and design significantly reducing the cost of construction and operation.
Economies of scale are expected to drive down costs still further, expediting growth as operators exploit opportunities for greater power production from offshore wind.
Control strategies
Key to the success of floating offshore wind operations is the need to optimise operation to minimise total life-cycle costs.
It is also essential in operation to maintain platform stability and anchoring to maximise energy production. Equally important, with wind turbine systems lasting for 25-30 years, is to protect valuable assets subject to harsh marine environments with low temperatures and extreme weather conditions, while also addressing health and safety challenges.
The intricate nature and diverse challenges of floating wind platforms are complicated still further by their offshore location.
Incorporating instrumentation to assist with monitoring control is central to keeping on top of on-platform conditions and can help with implementing a planned maintenance regime to cut costs and prolong the life of equipment, as well as avoiding safety incidents while ensuring the stability essential to optimising power capture.
Instrumentation solutions providers including PSM have responded to the challenge to provide reliable monitoring and control systems that can optimise platform stability and monitor performance in isolated sites, enabling remote monitoring.
Changing gear: dynamic control with digitalisation
Alongside technology advances in design and construction, new systems have emerged that exploit the advantages of digital technology to deliver truly dynamic control, with real-time monitoring. PSM's Connect system, for example, is built around a central processing module that interfaces directly with intelligent digital sensors via a multidrop network and receives other input signals via a range of interface cards.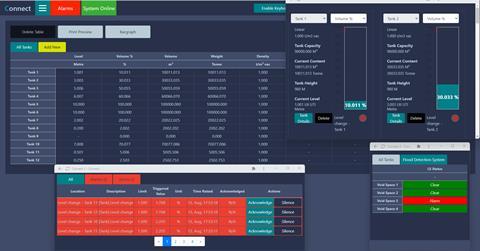 Multi Screen view using POP Out Windows - Dark Mode
These latest generation digital sensors collect information across the platform ensuring continuous, accurate monitoring of ballast and service tank levels and multiple point draught measurements, while also monitoring wave height, temperature and pressure. Balance and stability are thereby automatically regulated, with exception reporting where intervention may be required, helping to ensure safety in operation and correct positioning in relation to wind flows.
The newest systems allow multiple display points to be connected via a single ethernet link.
Remote internet connectivity assists with data collection and access by onshore computers as well as allowing remote updating and configuration.
Real-time data availability and in-built alarms not only provide early warning of issues with the potential to address these without site visits, but can also facilitate the implementation of strategic maintenance programmes.
A further benefit of digitalisation is a reduction in cabling requirements, with innovations in design enabling fast track implementation while reducing installation costs to maximise accessibility to the technology.
Case Study Example: Flood detection
An early system supplied by PSM in 2018 to Ideol's Floatgen project made use of bilge/flood detection switches feeding into a PLC control unit, generating alarms and activating valve and drainage functions as required using heat pump control logic, based on the status of real-time inputs.
This system operates fully independently, but the status of all the switches, valves and pumps is presented to the platform's remote SCADA system via a serial communication link.
Caption for supplied image: Ideol Floatgen installation.