A new OptiPort tool has been making sure Kotug tugs are at the right place at the right time, and it's all on a handheld device.
Dutch tug operator Kotug and Canadian software developer Helm Operations have reported their OptiPort tool has scheduled more than 75% of all towage jobs in the busiest ports in the US.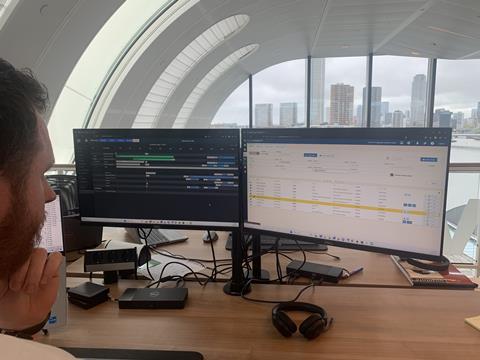 When for example a container ship sails from its departure port on a month-long or even longer voyage it will provide a fairly precise ETA to the destination port and associated service providers. In reality, however, that ETA may change several times right up to the ship's arrival at the pilot station, making efficient scheduling for those involved in its safe arrival and berthing a dynamic balancing act, for none more so than the shiphandling tugs, who may be responding to multiple requests including ships waiting to leave their berths.
In the digital age myriad sources of information are at hand to aid streamlining of tug allocation and despatch, a skill requiring advanced insights to schedule the right tug to the right vessel at the right time. Since 2022, Kotug's OptiPort scheduling tool has been active in US ports including Los Angeles and Long Beach in California, Port Arthur in Texas and Port of Tampa, Florida.
In conjunction with its integration partner Helm Operations, Kotug is actively and autonomously scheduling all tug movements at these ports using the latest developments in machine learning, data science, mathematical programming and data analytics. Kotug says OptiPort is the world's first cloud-based tug scheduling software using AI to optimise decision-making continuously, designed exclusively for maritime service providers combining AIS, weather and tide data with crewing schedules and port information.
Helm Operations says the product offers harbour towage operators "a simplified order-to-invoice workflow and access to optimised cost savings". It also offers Helm Portal, a new mobile app that allows local port agents to submit requests directly to towage operators, make changes to those requests, see live updates and receive notifications – all via a handheld device. This in turn keeps OptiPort up to date with real time information.
The software applies local rules along with business and port standards to ensure the right tug is at the location while sailing at optimal speed, resulting in reduced fuel consumption with tug use simultaneously improved.
All this provides teams with more control over operations and real-time updates, enabling tug-hour scheduling to be accomplished in advance rather than at the last moment.