German engineering firm Applied New Technologies (ANT AG) has produced an abrasive waterjet suspension system for cutting steel on obsolete ships.
ANT AG says the waterjet can cut steel plates of up to one metre thick using pressure of just 2500 bar, which means cutting can be carried out with high precision and efficiency.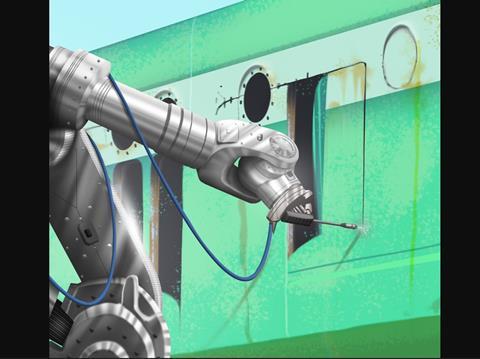 The extendable cutting jet consists of a suspension of water and added abrasive, which can cut through even multi-layered materials and structures with cavities such as fixtures, insulation and cladding, the firm says.
"In the light of the ongoing shift to emission-free shipping and a growing world merchant fleet, a significant increase in scrapping activities is expected within the next 10 years," says ANT AG. "The number of vessels to be recycled is projected to grow from 7,780 ships in the last decade up to 15,000 ships over the next one with a transport capacity of 600 million tons (last decade: 285 million tons).
"Furthermore, new regulations stipulate clean and safe ship recycling. At the same time, the steel industry, one of the world's main emitters of CO2, faces the challenge of reducing emissions by about 30% by 2030 in accordance with the Paris Climate Agreement of 2015. Around 85% of CO2 emissions in steel production occur in the blast furnace. Scrap steel from ship dismantling provides a notably sustainable option, as it can be fully recycled without any loss of quality. Around 1.6 tons of CO2 per ton of recycled steel can be avoided."
ANT AG says as well as zero carbon dioxide being emitted in the cutting process, no slag, paint chips or other debris contaminate the surroundings because they remain inside the ship body.
The system can also be remotely operated from up to 500 metres away, and has been unveiled ahead of global regulations that are due to come in, such as the Hong Kong International Convention for the Safe and Environmentally Sound Recycling of Ships, which will enter into force on June 26, 2025, and the EU Ship Recycling Regulation, both of which advocate environmentally friendly ship recycling and safe working conditions.